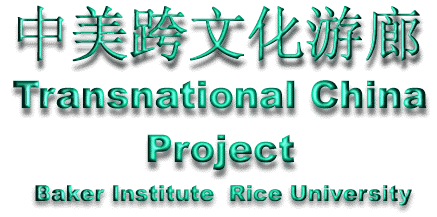 Analysis and Commentary:
"Contemporary Culture Debates in China:
Selected Articles From the PRC's Premier Intellectual Forum,
Dushu (Reader), and Tianya (Horizon) Magazine
(Transcribed Here With Permission of the Authors, Dushu and Tianya)

"Introduction to Selected Articles From Dushu and Tianya"
Hui Wang,
Editor of Dushu

Wang's Introduction in GB Format
Wang's Introduction in Big5 Format
"Recalling East Asia at the Turn of the Century"
Yuong-seo Baik,
Yonsei University

Baik's 1999 Dushu Article in GB Format
Baik's 1999 Dushu Article in Big5 Format

"The Holy War of the Age of Super-Imperialism"
Yangu Chen,
Chinese Academy of Social Sciences

Chen's 1999 Tianya Article in GB Format
Chen's 1999 Tianya Article in Big5 Format
"I've Always Lived on the Surface"
Sechin Y.-S. Chien,
Academia Sinica

Chien's 1999 Dushu Article in GB Format
Chien's 1999 Dushu Article in Big5 Format
"National Self-Determination, Human Rights and Sovereignty"
Zhiyuan Cui
Massachusetts Institute of Technology

Cui's Dushu Article in GB Format
Cui's Dushu Article in Big5 Format
"Testimony and Witnesses"
Jinhua Dai,
Beijing University

Dai's 1999 Dushu Article in GB Format
Dai's 1999 Dushu Article in Big5 Format

"Borderless Writing"
Hui Wang,
Editor of Dushu

Wang's Article in English
Contact Information:
Yuong-seo Baik,
baik2385@mail.yonsei.ac.ko

Sechin Y.-S. Chien,
sechin@gate.sinica.edu.tw

Zhiyuan Cui,
http://web.mit.edu/afs/athena.mit.edu/org/p/polisci/www/faculty/Z.CuiLinks.html
http://166.111.97.88/ztw/jcwz/0jcwz.htm

Analysis and Commentary Home Page

Transnational China Project Home Page

James A. Baker III Institute for Public Policy Home Page

Asian Studies at Rice University Home Page

Center for the Study of Cultures at Rice University Home Page

Rice University Home Page


Copyright and Disclaimer

Note on Accessibility and Updating:
These pages were designed to meet current Web Accessibility Initiative guidelines (W3C WAI GL ). If you have problems accessing these pages, or other comments or suggestions, please contact us at (tnchina@ric.edu). This page (http://www.ruf.rice.edu/~tnchina/) last updated by the Transnational China Project (tnchina@rice.edu) on April 23, 2001.