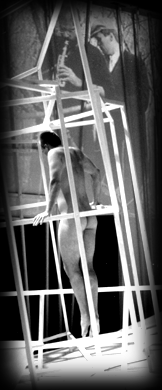 In 1996 xenologue productions, the media arts studio for AlienNation Co., announced its distribution of performance videos, dancevideos, and ethnographic videos created from the recent stage productions, concerts, installations, film projects and urban workshops undertaken by members of AlienNation Co.
In 1996-97, xenologue productions introduced "Fragmentos," a series of experimental videos based on the cross-cultural collaborations with colleagues in the US, Canada, Mexico, Cuba, Slovenia, East Germany, Finland, Holland, and the UK. The series features artists, cultural workers and community activists involved in diverse media and activities of social transformation.
The emphasis and conceptual focus of this series is on the recovery or transformation of utopian ideas and the exploration of performance relations (collaboration). 

After setting up home in Houston, Texas, AlienNation's "blackbox" productions operate both on a grass-roots level of transcultural work and in high-concept cross-over artspaces (Winter Street Art Center, TransArt Studio). Its objective is to help exchange ideas and experiences, images and bi/multilingual collaborative processes that contribute to the lifelong dialogues we carry on with the physical and cultural dislocations and the fragmentations that characterize the daily lives of most of us.
During 1998 AlienNation Co. built its new DDA (Dance/Digital Arts) Studio at Winter Street Art Center in Houston. Winter Street became a temporary creative home dedicated to the development of movement performance and visual art work integrating live stage performances and installations with new digital art technologies (video, electronic sound, multimedia computer software, interactive design,and MIDI instruments). Video production services, performance/media workshops, website design and media/image consultation are offered to the citizens in the community. Beginning at the end of 2002, the company will work out the TransArt Studio on Alabama Ave.
AlienNation Co. also posted the CODA site of upcoming dance events and collaborations in Houston. While Johannes was in residence at OSU's dance department, the event calendar rested.
Currently available at XPALCO (xenologue productions/AlienNation Co) are the following video tapes and documentaries:

MIRAK, a dance opera, Houston 1999-2000.
Trails, short film, based on writings by Nijinski, Houston, 1999.
NORTH BY SOUTH
dance/film performance, Houston, 1998
Between the Places, dance film work in progress, Houston 1997.
Skybooks, a film on documenta X, 1997.
distances, film-in-progress (before night falls), 1997
Lovers Fragments/Liebesfragmente, exhibition film, Dresden, 1996
LBLM, documentary film of digital performance workshop, Chichester 1996.
La logica que se cumple, experimental film project, created in Cuba. 1995-96.
Akanamba, performance video, created with Teatreros de Orile, Havana, Cuba. 1995
Fragmentos de Enamorados, film-concert. 1995.
Lovers Fragments, dance-film, 1995.
Ojos de Pueblo, video documentary, created on the anniversary of the Chiapas uprising, Chicago, 1995.
The Connected Body? videopoem, created with Imma Sarries-Zgonc at the School for New Dance Development, Amsterdam, Holland 1994.
AlienNation, videodance, 1993.
The Making of 'From the Border', videodocumentary, 1993.

Orpheus and Eurydike video-danceopera. 1992.




AIDS INTERFACINGS, video documentary on the AIDS crisis, Chicago. 1991.
After the Revolution, video documentary, created in East Germany. 1991.
Border-Land, video documentary, created after the fall of the Berlin Wall, Germany, 1990.
AD MORTEM, concert-film documentary on the AIDS crisis. Houston. 1990.
Memories of a Revolution, documentary, created in Houston. 1990.
Border Sacrifice, documentary, San Ygnacio, Texas.
CD-ROM:

BOOKS: