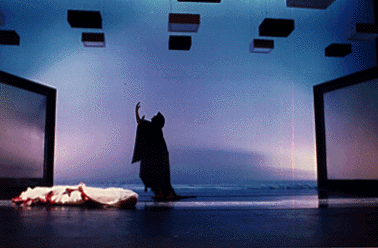 Orpheus and Eurydike
a new opera created by
Johannes Birringer (scenography, video production)
in collaboration with:
Gwynne Winsberg, Patricia Morehead, Tim Tobias (music)
with
Bonita Hyman, Isabelle Ganz, Elise Kermani (vocalists)
Gwynne Winsberg (Proteus II, sequences, voice)
Lori Barrett, Tania Botelho, Jennifer Farrell, Tsehaye Hebert, Jennifer Holmes, Mark Kenward, Marianne Kim, Sara Kraft, Blair Laden, Anita Loomis, Shannon Raglin, Cindy Reid, Pamela Strateman, Melissa Thodos, Gabriela Villegas (dancers)
Patricia Morehead (oboe, English Horn)
Shannon Murphy (flute, alto flute)
Tim Tobias (keyboards, percussion, sequences)


Choreography by the Ensemble
Scenic Design by Allison Reeds
Lighting Design by John Miller
Photography by Lori Barrett, Tania Botelho, Karen Baldner
Masks by Gabriela Villegas
Video Production/Postproduction by Johannes Birringer
Camera Assistance by Lap-Chi Chu
Additional film materials by Jerry Curry, Wim Wenders, Jean Cocteau, Nikos Koundouros, David Wojnarowicz, Luis Bunuel, Sally Potter, Sheila McLaughlin
Choreographic and Musical Workshops: Special Thanks to Melanie Lien Palm, Jana Haimsohn, and Myra Melford. Additional Music by Christoph Willibald Gluck and Claudio Monteverdi
Orchestration, Arrangements, and Musical Production by Gwynne Winsberg, Tim Tobias, and Patricia Morehead
Production Stage Manager: Amy Ambrose
Production stills: Mary Hanlon
Color slides: Johannes Birringer
World Premiere: May 22- 31, 1992, Josephine Louis Theatre, Northwestern University Theatre Center, Evanston, USA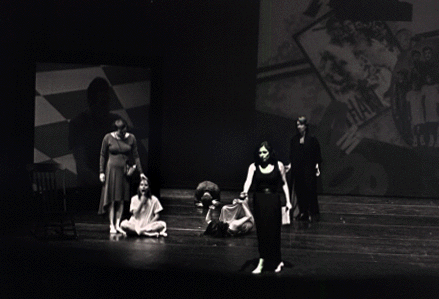 photo by Mary Hanlon
Description ORPHEUS AND EURYDIKE An experimental feminist opera
In May 1992, Northwestern University's Theatre Center presented the world premiere of "Orpheus and Eurydike," a new experimental opera conceived and directed by choreographer and filmmaker Johannes Birringer.
"Orpheus and Eurydike," derived from the classical myth of the loss and suffering of Orpheus as he attempts to recover his wife Eurydike from the underworld, was conceived by Birringer as a performance experiment in new music, dance-theatre, and film/video. Theatrically, the opera draws from several physical and cinematic vocabularies such as European tanztheater, Japanese butoh dance and avant-garde video art. Musically, the production shifts between idioms, including free jazz improvisation, atonal music, industrial rock and a broad spectrum of vocal music ranging from bel canto arias to wordless sounds. The performance is multilingual (English, German, Italian, French, Spanish, Portuguese, and Arabic).
more about "Orpheus and Eurydike"

---
Web site design by WebslingerZ