III. ARIEN
Deconstruction - Gluck/Tobias/Winsberg/Ganz
IV. HACIENDO CARAS
Ensemble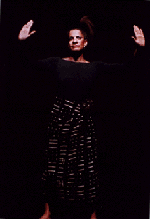 V. ON THE BORDER
On the Border - Tobias

Spiral dance - Morehead

Without Boundaries - Winsberg/Tobias

______________________________________________________________




The Concept
The opera challenges the archetypal myths of Western musical structure and the familiar narrative of female sacrifice and redemption that underlies the history of Western opera. The ensemble has created a provocative new look at the sexual fantasy of redemption through the eyes and ears of Euydike (performed by 19 female artists in a multicultural cast) as she explores women's experience as objects of male fantasies as well as subjects of their own actions and imaginations.
____________________________________________________

Keeping step with the story

I make my way into death

To speak with my voice

To dance with my body

I did not want anything more, anything different.

Only there, at the uttermost border of my life
Can I name it to myself
There is something of everyone in me
_____________________________________________________
---
Web site design by WebslingerZ