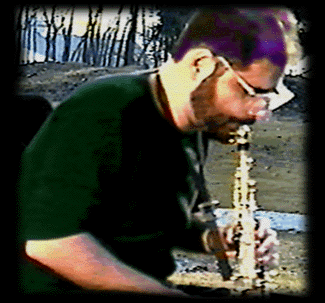 As an interdisciplinary performance company experimenting with multiple media/arts processes, AlienNation Co. offers residencies and workshops to extend their work and rehearsal methods into communities, arts organizations, and schools, and to create spaces for the exchange of creative ideas and cultural experiences. Such residencies are designed for community artists or college and high school performing arts departments in ways that stimulate and activate interchange between expressive culture, media/communication, and writing/performance composition, with a special focus on the integration of live art and video/photography/computer and editing technologies.

The ensemble and its design and media collaborators examine the process of creating intermedia art/performance through workshops, rehearsals, lectures, screenings, and demonstrations. The company's fee is negotiable, depending on length of the residency and the number of company participants.

Recent/future workshops:

1999 Tempe (Arizona), Time, Migration, Narration," Performance-Technology Workshop offered at IDAT99, Arizona State University Dance Conference/Festival, February 25

1999 Houston (Texas), "Digital Photography/Digital Performance," integrated performance and digital arts workshop at Winter Street Art Center, 6 weeks, January 18 to February 28.

1998 Chichester (England), LBLM2: "Machines and Migratory Bodies," integrated performance/digital arts workshop

1997 Dresden (East Germany), "LBLM", integrated performance/digital arts workshop
1997 Dresden (East Germany), "Metamorphosen" multimedia workshop
1996 Chichester (England), "LBLM", integrated performance/digital arts workshop designed and created for Split Screen Festival
1995 Havana (Cuba), "Manos mutilados" video & performance workshop
1995 Helsinki (Finland), "Movement, Video, and Gender" video & performance workshop
1995 Dresden (Germany), "Parsifal Utopien" opera workshop
1995 Eisenhuettenstadt (East Germany), "Closed Spaces" urban action/archeology workshop
1995 Guildford (England), "Off-Screen Bodies" dance/video workshop
1994 Havana (Cuba), "AlienNation" performance workshop
1994 Ljubljana (Slovenia), "Physical Theatre" dance/performance workshop
1994 Eisenhuettenstadt (East Germany), "Grenzland" dance/video workshop
1993 Chicago (USA), "From the Border" international performance/installation project
Residencias y Cursillos
Como compasa interdisciplinaria que experimenta con ideas de intercambio cultural, AlienNation Company ofrece residencias y cursillos para extender su trabajo en las comunidades y/o escuelas, y para crear espacios para el intercambio de creatividad y experiencias culturales. Dichas residencias estan ideadas para trabajar con comunidades artisticas y departamentos de interpretacion, danza o musica, en escuelas y universidades, en formas que estimulan y activan el intercambio entre cultura expresiva, medios de comunicacion y composician literaria y musical. La direccion y sus colaboradores examinan el proceso de creacion del arte interdisciplinario a traves de cursillos, conferencias, proyecciones, presentaciones y exposiciones.
---
Web site design by WebslingerZ