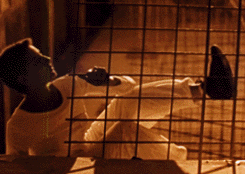 "Parsifal"
a performance-installation created by
Johannes Birringer and Imma Sarries-Zgonc
in collaboration with:
Erika Bosse, Wolfgang Bosse Konstell, Volker Lenkeit, Richard Mansfeld, Rainer Mller, Jo Siamon Salich (GRUPPE RU-IN).
New concept, choreography, design by AlienNation Co. and RU-IN. Original concept by Grupo Chaclacayo, music by Richard Wagner and RU-IN, photography/videography by Johannes Birringer, Jo Siamon Salich
sound control by Henry Koch
German premiere: September 30, 1995, Festspielhaus Hellerau, Dresden.
The new work, Parsifal, was first work-shopped in East Germany and designed as a site-specific installation.
Parsifal, an experimental opera-installation in three Acts, is a work in progress to be developed in a sequence of three different performance concepts, each one with a particular focus and artistic design.
more about Parsifal

---
Web site design by WebslingerZ