ion Locked="false" Priority="61" SemiHidden="false" UnhideWhenUsed="false" Name="Light List Accent 4"/> <![endif]-->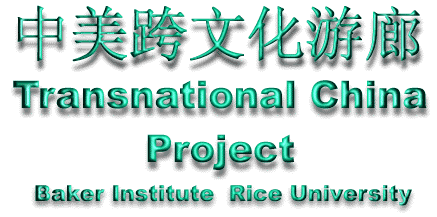 Since 1997 the Transnational China Project has explored the influence of the transnational circulation of people, technologies, commodities and ideas on contemporary culture in Chinese societies by sponsoring original analysis and commentary, developing curriculum resources, fostering networks of scholars and maintaining original image archives. Please see below for more information about our project goals and how to contact us.
NEW
Transnational China Project Website Resource:
Websites of Mainland China Newspapers, Radio and Television Stations
(Compiled Summer 2009)
Daniel H. Katz
Image Archive
Beijing, Chengde, Chengdu, Hangzhou,
Shanghai, Shaoxing, Three Gorges Dam Project and Xian:
"Public Advertising Culture in China:
Spiritual Civilization, Local Development,
Privatization and Public Service"
View the Public Advertising Culture in China Archive


The mission of the "Transnational China Project" is to develop innovative approaches to the study of contemporary China through the use of advanced technologies and by means of new forms of both personal and inter-institutional collaboration. The central goal of this interdisciplinary effort is to identify, bring together, make accessible, and analyze the multiplicity of views emerging from the complex interplay between the forces of both global and local change. In so doing, this initiative seeks not only to clarify the issues involved in these debates but also to contribute to the debates themselves.
The research goal of this project is to understand the forces shaping the rise of mass-media oriented, consumer societies in the greater China region-particularly the influence of the transnational circulation of people, technologies, commodities and ideas. Toward this end, the project has created an international network of prestigious academic and cultural institutions capable of bringing together experts from around the world to discuss and debate these research issues, publish papers and monographs, and transmit useful information to wider audiences both in the United States and Asia.
The pedagogical goal of this project is to develop a wide range of audio-visual and textual resources that will provide a lively, forceful, up-to-date and authentic "inside" view of the forces transforming contemporary Chinese culture, as well as the intellectual debates that these changes continue to provoke. A state-of-the-art, multi-lingual, electronic archive has been created to make these unique resources available for both course development and research.
The James A. Baker III Institute for Public Policy at Rice University will coordinate the establishment of the networks and technologies that will achieve the research and pedagogical goals of this project. Thisproject was initially supported by grants from Ford Motor Company and PricewaterhouseCoopers, and subsequent grants and donations from philanthropic individuals and the Henry Luce Foundation of New York.

Founding Directors:
Benjamin Lee (New School University)
Leo Ou-fan Lee (Harvard University)
Steven W. Lewis (Rice University)
Richard J. Smith (Rice University)
Please address general inquiries to:
Steven W. Lewis, Ph.D.,
Transnational China Project
Baker Institute MS-40
Rice University
P.O. Box 1892
Houston, TX 77251-1892
Phone: (713)-348-5832
Fax: (713) 348-5993
E-Mail:tnchina@rice.edu
Copyright and Disclaimer

Note on Accessibility and Updating:
These pages were designed to meet current Web Accessibility Initiative guidelines(W3C WAI GL ).
If you have problems accessing these pages, or other comments or suggestions, please contact us at [tnchina@rice.edu].
If you would like to be added to the TCP's e-mail distribution list for public events, please send an e-mail to tnchina@rice.edu
This page [http://www.ruf.rice.edu/~tnchina/] last updated by the Transnational China Project on January 9, 2010.