Now in  Windows Media, Mp3, and Phone apps!

KTRU  Houston
*   RICE RADIO REGGAE   *
Wednesdays
5:00 - 7:00 pm. CT
Email

CDs on Rotation
Recent  Playlists
PATO BANTON  interview
"the origins of  DUB"
glossary of reggae terms
MR. VEGAS  interview
MICHAEL ROSE  interview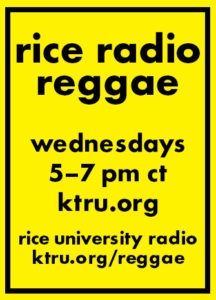 Artists and Labels -
airplay submissions can be addressed to:

KTRU, Rice Radio Reggae
Rice University,  MS 506
P.O. Box 1892
Houston, TX  77251-1892  USA
[FedEx-UPS: 6100 Main St., Houston, TX 77005]



Listen to :
``White Boy a Follower?
From Black Supremacy to One Love in Rasta Reggae''
This broadcast of Rice Radio Reggae is available in its entirety in RealAudio and VLC Media.   The "edu-tainment" special is hosted by DJ-RJ, a multifaceted Austin, Texas Reggae producer, and by Professor M.C. Gregory, author of the book, "ON RACIAL FRONTIERS, The New Culture of Frederick Douglass, Ralph Ellison, and Bob Marley".  It takes us on a musical / historical journey toward a deeper appreciation of many aspects of Rasta Reggae.
The show runs appoximately 80 minutes. ( Legendary Marley musicologist / Beat Magazine founder Roger Steffens declares :
".. Found [the broadcast] to be well-produced and very provocative.  Real fine work from you both.  My congratulations!" ) More info on Gregory Stephens' book can be found at :
Cambridge University Press
Gregory Stephens bio

A sample chapter of the book is also available here in PDF format from the Cambridge website.


URBAN BEAT Magazine
Vol. 2, Issue 9

True
Reggae on
KTRU
By Jerry "J'rie" Villarreal
Rice University's new reggae show, bluntly put, is well... the Reggae Show.   Scottie McDonald of the local band,  IRIE TIME,  hosts and produces the Wednesday evening show from 5 to 7 PM on 96.1 FM.  Technically, the show has been around as long as the station itself, and claims to be the longest running speciality show on KTRU, although it didn't air last year.  A couple months ago, the program was reinstated.

In the past, the show's playlist was more eclectic, as it included more ska, soca, and calypso and there was a "dub hour" which proved to be more popular than other segments of the show. "The students really took to the dub ... especially the ambient listeners," says McDonald.  For this reason, he tries to play dub about every 3 or 4 songs.

With the rough lyrics of dancehall losing popularity in the reggae scene, he is venturing forth with the on-the-rise-again conscious roots music.  Europe, especially the UK, where much of the sophisticated dub and roots is spawning, has been supplying much of the show's playlist.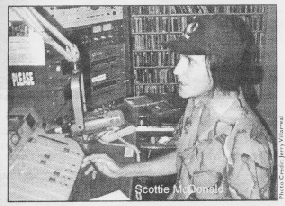 McDonald keeps the show easy and informal and he very seldom speaks, knowing that many of his listeners are recording the show. Every once in awhile, he plays live and/or prerecorded interviews and on-location concert reviews. He also provides info about what's hot and new, and about upcoming events.

McDonald always closes the show with a Bob Marley song, and a simple yet inspiration farewell, "Jah guide."  It's a truly straight up rush of Rasta livin'.  Tune in Wednesdays at 5 PM to 96.1 on your FM dial, and challenge McDonald and his huge reggae collection with a request at 713.348.5878.   UB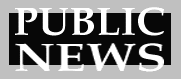 HOUSTON'S ALTERNATIVE NEWSWEEKLY Magazine
Issue #836

RADIO WAVES
WED Rice Radio Reggae (96.1 FM KTRU) hosted by Scottie McDonald from 5 p.m. to 7 p.m. spins roots reggae, dub, lovers and dancehall.   The 'rasta sound' is heard here every Wednesday evening.   For feedback, contact  www.ktru.org  or dial the request line (713) 348-KTRU.   Spin Cycle: "Reunion" - Abyssinians,   "Fear of a Green Planet" - Dub Syndicate,   "Journey" - Garnett Silk,   "7 Days a Week" - Don Carlos,   "Under the Spell of Dub" - Mad Professor.




Return to the KTRU home page.