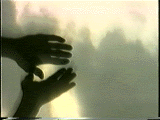 VESPUCCI - LITANY FOR A DEAD EARTH
___________________________________________________
a digital/architectonic performance-installation
featuring
Johannes Birringer - Don Calledare - DJ Fluxx and Solar Plexus - Angeles Romero -Isabelle Ganz - Christy Singleton - Emmanuel Woodward
Winter Street Art Center
February 20, 1999, 6 - 10 pm
March 5 & 6, 8-12 pm
____________________________________________________
LITANY FOR A DEAD EARTH
The installation is performed in 4 different physical spaces through which the audience moves. The movement is like a dance. The audience encounters movement scenarios in film, sculpture, remote digital movies, sonic landscapes. The fictional content of the scenarios requires time shifts (from past to future, future to present).
The interactive scenarios (scukpture corridor, telescope) are works-in-progress. The VESPUCCI project is the prototype for a new dance opera MIRAK which is under development. "Litany for a Dead Earth" is the first stage of the libretto.
back to Performance Projects Page
---
Web site design by AlienNation Co.