1. BLUE (Probe 1) Dialog (Cosmonaut/HomeBase)
2. THE SEARCH FOR SPACE, MEMORY ON FILE, GREEN
3. PROBE 2/SEE-SAW, GREEN/YELLOW
4. THE BOX, THE CORE, YELLOW
5. UNDER THE TABLE, YELLOW/RED
6. DISINTEGRATION, RED
7. THE ANT, PURPLE
Epilog, OCHER/ORANGE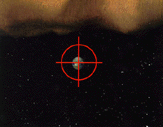 choreography/film: Johannes Birringer
libretto: Angeles Romero,
music and mixing: Steve Pare
performance: 3 singers, 5 dancers
mezzo soprano (guest artist): Isabelle Ganz
video/animations: Serena Lin
costumes: Angeles Romero
scneography: Donald Calledare
(c) 1999 AlienNation Co.
PREMIERe
Wednesday, Thursday, Friday and Saturday, December 15, 16, 17 & 18 at 8 pm
Diverse Works, Houston
Call 713/228 0914 or 713 335 3445 for 24-hour reservations
_______________________________________________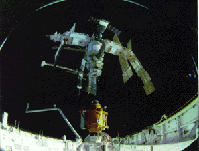 DESCRIPTION
This surrealist sci-fi opera portrays the dramatic shift in the mindset of Romola, a cosmonaut abandoned on the spaceship MIRAK.
After seven years of orbiting Earth, Romola's physiological chemistry changes. She experiences a series of hallucinatory mental break-downs which enable her to reconfigure her reality and live as a new, mutated being. The audience is invited to a cinematic journey of the mind at the dawn of a century.
AlienNation Co. uses familiar opera conventions to strikingly new effects, integrating movement and narration on stage with video projection, 3D animation, sculptures, and an electronic score performed live by a small orchestra and three singers.
Created during their dance residency at DiverseWorks, the opera MIRAK highlights AlienNation Co's multimedia, computer-driven conception of visual choreography, storytelling, and live mix.