Triple Focus: DANCE MONTH

LEAVES OF GRASS

"Triple Focus," the opening program of Dance Month at the Kaplan Theatre (Jewish Community Center) on January 16 showed evidence that Houston's contemporary dance scene has woken up, near the end of century and in midst of a burgeoning movement of self-organization.
The Jewish Community Center's "Dance Month" of course has been around for a while, and on opening night Hilda Frank, Chair of JCC's Dance Committee, proudly took the stage to speak about the history of this event which, from the beginning, was conceived to nurture local dance and give opportunities to young and established choreographers while also showcasing invited companies from other cities, multiple disciplines and styles of dance by professionals and non-professionals.
A very valuable part of this promotion of contemporary dance, reflected in Maxine Silberstein's coordinating efforts for Dance Month and the Dance Summer Festival, is the link in the programming between concerts, children's performing arts series, and master classes and workshops offered to the general public. Furthermore, this Dance Month also features a small visual art exhibition in the Kaplan foyer of beautiful dance photocollages/drawings created by Nancy Galeota-Wozny.
The burgeoning of Houston's contemporary dance, which I implied earlier, can be deduced from the increased activity of younger dance companies (in including Fly, Suchu, Weave, Jane Weiner's Hope Stone, SODC, etc), the continuing solid efforts of matured choreographers and companies that have been around the block (Sarah Irwin, Nancy Henderek, Chrysalis, Houston Metropolitan Dance Theatre, Several Dancers Core, etc), the recent hiring of choreographer Karen Stokes at UH and of dance instructor George Henderson at MECA., as well as the unfettered energies of the small local underground (including Cynthia Cupach, Rickie Hubscher and Co.) that performs at no Tsu oH, Templo or Commerce Street Warehouse. Venues and opportunities for contemporary dance and the heightened visibility of the work of our dancemakers are sought after, and that is also one of the reasons why a new initiative was formed under the name of CODA (founded by Farrell Dyde and now led by Christina Giannelli) with the declared purpose of centralizing these efforts and promoting contemporary dance in the city. As I am a member of this initiative, I am partial to the goals represented by "Dance Month," wish to lend my support and therefore cannot claim objectivity.
The Houston Press announced this month's "dance fever," and the new Houston Chronicle dance critic, Molly Glentzer, came out with an upbeat review of the opening night concert at JCC, and so everyone ought to be happy. The programming of TRIPLE FOCUS made perfect sense (Sandra Organ's company crosses ballet with contemporary dance styles, Joan Karff's New Dance Group is squarely planted in the modern tradition, and Fly Dance Group contributes the maverick element of a young troupe of street-wise kids transforming their roots in hip hop and break-dance into a highly kinetic and entertaining dance cabaret).
And in fact the entire "Dance Month" is a good, democratic showcase of crossings, both culturally and in terms of styles and traditions. KLEZDANCE (JANUARY 30/31) will mix Naomi Goldberg's Los Angeles Modern Dance and Ballet Company with the Eastern European tradition of Jewish klezmer music; the Japanese butoh company Buto-Sha Tenkei, descendants of the most significant Asian avant-garde dance movement, will return for a two-day engagement (February 10-11) to play to a larger house than last year's (DiverseWorks), and a selection of young and promising choreographers will show their new work on February 6 & 7 (Houston Choreographers X6).

Onward, then, Houston, daughter or son, Americanos, here is what sings unrestricted faith? The history of the future is certain?
Instead of complementing the well-deserved praise for the successful opening night (with a richly diverse, responsive and supportive audience attending), I wish to pause for a moment and merely make a few small observations, raise a few small questions about the characteristics of the TRIPLE FOCUS program and the kind of contemporary dance ideas it presented or avoided. First, it struck me that the programmers chose to present a potpourri of the three companies, in other words each company showed several shorter pieces intermixed in the first and second half of the evening. This created a good flow of alternating moods and perspectives, enhanced by the distinctive choices of music that were made. Starting off, Sofia L. Torres choreographed "Standing on Fishes" for Joan Karff's troupe to the beautiful, abstract electronic music ("Cantus Arcticus") of composer Einojuhani Rautavaara. Evoking a lyrical mood with soft waving hand and arm movements, the five dancers seemed to want to transport us into a different landscape or climate, working their way through a small series of characteristic patterns and phrases that came across like signals. Not all of the dancers had the same technical level of execution, and since abstract modern dance relies so much on precision, line and shape of its movement colors, the piece lacked a certain strength of development or direction. Like trees in the wind, the dancers bent and shook their branches, unable to be anything but trees.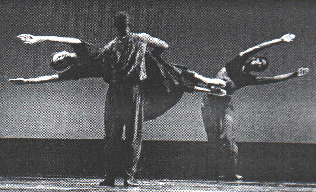 Sandra Organ's "Lamentations," daringly quoting a weighty tradition of Martha Graham and Alvin Ailey dances of spiritual and psychological soul-searching, took us into an altogether different musical environment, early baroque madrigals, cantus firmus, and recitative reminiscent of Monteverdi (music by Giacomo Carissimmi). The religious, liturgical and humanist content of the story Organ tried to dramatize - the Old Testament story of the warrior Jephte who vowed to sacrifice the first who would greet him back home after a victorious battle - gave the ballet a stark, somber tone. The slow, restrained tableaux of the first section that isolates Jephte (Keith Vukusich) and mother (Lisa Alfieri Ballo) and daughter (Julie Fox) forced the issue of narrative ballet, here depending on an expressive power of gesture that Vukusich didnŐt possess.
Julie Fox as the sacrificial victim helped the piece to survive its second and third sections; her dance was spirited and evocative of the emotional turmoil we dimly perceive in the recitative, although her movement and footwork remain altogether lyrical and within the modern ballet tradition that Organ must have internalized during her years of tenure at Houston Ballet. Her choice of biblical material must be honored, if she intended to breathe life into the kind of existential conflict that Abraham once faced in another one of GodŐs inscrutable wagers. As a realization of internal conflict (of faith, vow and consequence) or psychological drama, the dance remains too much on the surface, it offers no point of view, it ends up sitting awkwardly next to the following act, Fly's "Red," a rambunctuous and raucous piece of hip hop comedy that exploits the young men's high-flying gymnastic elegance and surprisingly pronounced sense of pantomimic comedianship.
The comedians, Ragland Babineaux, Mario Jaramillo, Toby Junious, and John Ramirez, proficient and cool, experienced in mugging for the audience, coy and curious at the same time, have made tremendous strides in their professional work over the past months, and their choreographer, Kathy Wood, has a wonderful eye for their rhythms, body languages and individual expressiveness, as well as a stupendous knack for the right kind of music that makes the young troupe thrive and jive. "Red" featured music by Claude Bolling, "Bounce" - a work ostensibly about the ups and downs of the stock market (with a sarcastic nod to the NBA debacle) - struck a more aggressive mood with contemporary techno and house, and their last piece, "Mambo," thrilled the Latino sensibilities in the audience with strong percussive salsa and mambo tunes.

Of course they haven't quite gotten over the occasional gimmicks and irrelevant parodies, but on the whole Fly was the surprise of the evening: they have matured and are now dancing more fully developed pieces that are less rambling and accidental (as their performance at Miller Outdoor Theatre still was) and more structured, with an inherent choreographic theme and mood that is explored and that incorporates the body languages, posings and postures, much like the breathtaking pyrotechnics, the somersaults, headstands and head-spins. Two dancers in particular captivated the audience in "Red": Jaramillo, tall, lanky, mischievous and Buster Keaton-like engaged in a duel of slow-motion pantomime with Junious, his physical opposite, each trying to upstage the other in a friendly game of brothers teasing and cajoling and puling faces - their gestures, however, becoming increasingly and poignantly tender, almost loving.
It is noteworthy that this young troupe is also pretty unique here in town; they are a male (only) company and they have taken the theatre of the streets and the club culture to the concert stage and transformed hip hop into something that is not only a recognizable Latino/black aesthetic, in its cultural, physical and rhythmic sensibility, but also political in terms of its attitude towards mainstream modern dance. The costumes they wore, incidentally, were exquisite and perfectly matching the content of the works. While Kathy Wood may be vogueing in her collaboration with the Latino culture, and bravely so, the Fly dancers are affirming their movement culture and their music, transporting the soul and the code/kinetics of their hip and hand movements, and the twists and turns of their feet and facial expressions across the calcified stage of modern dance, and the latter begins to look quaint in its unoriginality, at this point in time.
This, sadly, is also the feeling one got in particular after the last piece by Joan Karff's New Dance Group - "Life is an Interesting Proposition" - a trivial and uninspired exercise in pedestrian and repetitive modern dance movement which looked worse in the rainbow colored jumpsuits the dancers wore. The piece featured a ubiquitous accessory, each dancer swinging a racquet that assumed different symbolic attributes but mostly seemed a bad illustration of the exoticized "primitivism" enacted in the evolution-story (from soft/natural to harsh/mechanical) accompanied by pounding percussive rumbling of the Duesseldorfer Percussion Ensemble. A feeling of tribalism haunted this work, and yet there was no clear idea in the choreography that would lend the movement conviction or an inner expression - whatever expression there might have been was nullified by the surface colors of the childlike costumes.
The evening, then, left me with an ambivalent feeling about the mixed program. Sandra Organ's second offering, "Double Takes," in fact turned out to be one of the high points - it showed the choreographer and her dancers in a more ambitious and yet more relaxed, comfortable frame of mind. "Double Takes" features two pas de deux, performed by Ballo and an assured partner, Xavier Pont, followed by an explosive and engaging Joyce Yost-Ulrich partnering with Keith Vukusich. Both pas de deux, displaying contrasting pointe work and non-pointe work and equally intricate, even intimate relationships bordering on the erotic, breathed an air of sexy playfulness, charm and verve. Indeed, the second section with Yost-Ulrich and Vukusich's jazzy dancing to Nina Simone's exquisite, worldly-wise "My Baby Just Cares for Me" seemed to stretch to the opposite end of the ponderous "Lamentations" - it reveled in irony and a funky mixing up of our current cultural cues of nostalgia, splicing waltz and tango on pointe with some hilarious hip gyrations and pelvic movement, all tongue in cheek yet perfectly fluidly danced by these couples who had fun and who transmitted their energy to the audience, as OrganŐs choreography has been able to when it trusts its gut feelings.
"Double Takes" is a well-shaped and dynamic piece, both intelligent and entertaining, and it indeed shows one avenue of cross-over success (contemporary jazz ballet) in Sandra Organ's transition from the Houston Ballet to her own independent work. Another avenue might be the search for her own idiom and content, questioning the musical and aesthetic choices of the vocabulary itself. This questioning of modern dance, its relationship not necessarily to ballet but to the contemporary world, is what one might also expect from important dance events like "Dance Month," and the combination of these three companies in one concert is not the answer if the challenge presented by Fly is not picked up by a modern dance troupe like Joan Karff's that appears oblivious to new dance ideas happening all over the world.
Nor is Sandra Organ's reliance on ballet-trained dancers the answer; we would wish for her a strong and challenging confrontation with dancers coming from a different background, in the same way in which it might become necessary for Fly to reflect on its increasing use of mime and gestural comedy, which on the surface feels genuine and congenial with their adolescence, their cool and yet insecure exposure of masculine one-upmanship, which indeed reveals their fragility by hiding it. Those precious, tender moments in "Red" and "Bounce" moved me, and they pointed to an emotional core in contemporary dance theatre's questioning of identity, of the body, of color, of sexuality, of the self's relation to the other, which we yearn to see more often explored, perhaps critically or ironically investigated, in what is still called modern dance here. Modern dance, in fact, may be a stale formal language by now, an academic discipline, and it no doubt is "all just a little bit of history repeated," as Nina Simone sings, knowingly. This concert has not bridged any gap, I am afraid, since it was neither very daring nor very imaginative; it has barely begun to define itself as a question, and any new dance movement needs to develop ideas of its own, it needs to experiment, take risks. This concert, to a large extent, played it safe, and thus made it perhaps enjoyable and entertaining to a mixed audience coming from the camps of ballet, modern and hip hop. This city is too large, proud, indifferent and fragmented, and too small, to be able to afford a little bit of history. Audiences, I venture to say, need to ask for more.
Johannes Birringer
__________________________________________________ 33 Fainting Spells at Diverse Works
October 16-17, 23-24, 1998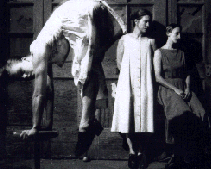 "Choreography of the Giggle"
Here they come, heavily funded and supported by the National Performance Network and numerous other funding agencies, carrying an elegantly exotic name and the endorsement of the Houston Press "Night and Day" Preview. DiverseWorks is paying attention, their fingers on the pulse of our times [as evidenced in their recent nostalgia-kitsch show, "Ultralounge: The Return of Social Space, with Cocktails," and their current pornography-kitsch show "full frontal, exhibited, hung"). The bad girls and boys, in former times exploding our tastes at Commerce Street Warehouse when Jim Pirtle would drape his vinyl shirts all over the brick walls, now come from out of town, in this case from the Northwest Coast (Seattle). Pirtle of course is still in town, running his own building and the No tsu oH Cafe, cluttered with the forgotten kitsch of the 30s and 40s. Our memory is not improving.
33 Fainting Spells brings a cleaner nerdiness with them of the kind that the New York Times, in an article on October 26, hails as "the uncool now are the coolest of all" - meaning, I assume, that the brainy, the weak, and the social misfit appear on the stage as neurotic stars in the performance-art-stand-up comedy of the late 90s. The supportive turn-out at DiverseWorks also points to the rallying cry DW belatedly attached to its lapels, promoting brash queer art not generally exhibited in this town of somber redevelopments around the dark edges of downtown economic class struggle, the skyscrapers (illuminated by ridiculously expensive displays of power-fireworks) throwing their shadows on Project Row Houses, at the other side of the freeway.
33 Fainting Spells is a dance-theatre troupe consisting of three women, Dayna Hanson, Gaelen Hanson, and Peggy Piacenza. They joined forces in 1994, and "Maria the Storm Cloud" is a new, full-length work (including an intermission) that was commissioned by DW, fulfilling Loris Bradley 's pronounced mission to bring "innovative dance theatre to Houston." Unfortunately, "Maria the Storm Cloud" is hardly innovative by any standards nor will it be remembered much except perhaps for its cool insistence that it has something to show or tell, even if the process of telling is riddled with obstacles.
The riddle of the performance title is the least interesting, even if references to storms and changes in the weather are important at occasions when we need to scramble from the hurricanes. "Maria" is a mild inclemency, like a cloudy sky we notice accidentally, in passing. After the first 10 minutes into the piece, it occured to me that these three actors want to make it clear that much of the composition will be like a light wind, a sequence of furtive glances here, a few shy giggles there, and a running gag that starts with the opening awkwardness, their nude bodies downstage right arranged in a chorus line and covered by hand-held cardboard clouds with a name tag that reads "hello," like a juvenile joke on Magritte. We hear the sound of wind. Black out. When the three come back, they are dressed in black shirts and short black skirts, and they begin their choreography of movement gestures that take off from that opening moment of goofy awkwardness. They are not dangerous witches who know any magic spells. They merely strike poses, they seem to want to say something but cannot speak because they are too shy or they feel watched, they move around, sit down and fall of swivel chairs, jump over and under them, grimace and strike poses that you might see at a highschool prom or, at worst, in the perennial grinning masks of the cheerleaders that jump up and down on the sidelines of America's team.
"Maria the Storm Cloud" builds a certain tension during the first half of the show, based on the rapport between the three identically clad women, which is later strengthened in the choices they make in their clever musical collage (which moves along with postclassical concertos by Schnittke and Shostakovich and on to Techno and electronic, percussive music that underscores their physical-theatre movement). There are times when the performance gains an exciting level of kinetic energy, especially when they dance with the 3 chairs, begin to introduce partnering lifts, shoves and pushes and contact improvisations, and sustain some of the intriguing stage images they create in their sparse scenography of props (chairs, silver martini glasses). When the chairs allude to an office or waiting room, or the daily chores of work (in one scene they turn lying on the swiveling chairs like victims tied to the wheel), and the glasses to a certain party atmosphere (reminiscenes of the "Ultralounge"), then this piece contains the narrative seeds of an exploration of women's social and economic conditions and conditioning (one stool resembles the stool of a hair salon, and in the second half a blond whig is promptly brought on to be worn by Piacenza whom the other two women try to persuade into a search for her true inner feelings).
The seeds are everwhere visible, especially in those many moments when Dayna Hanson and Gaelen Hanson play upon or send up the grimaces, awkward winks and shy coughs of girls at public events where young women are introduced to society or forced to perform for others (parents, employers, dates, whatever). The choreography of the piece is built on many of these small gestures, minute details observed and displayed again and again, especially in the on-going emphasis on the moment of decision that is passed up. They cannot speak yet, they hestitate, they delay. Since the performance is based on a mixture of contact and physical theatre/tanztheater styles, language/the spoken word is always implicit. We wait for it to happen, we expect that they break loose and spill it all out, as we have seen in horrifically done and pushed to the edge in Pina Bausch's work or in the relentlessly neurotic and obsessive confessions of Nigel Charnock (former dancer with DV8).



The dancing bodies show up their social encoding, and at times the Hansons, and especially Piacenza who is technically the most effective mover, reveal the impositions of behavior shoved especially upon young women in our competitive society. They hesitate to shove it off, caught in embarrassment. The symptoms are all there, the ticks and coughs and giggles. As a "return of the social," the dance offers a splendid pantomime, but that's about it. It never follows its repressions anywhere, nor does it seek to answer any questions it raises, nor does it take us to the edge (as in Todd Solondz's film "Happiness") where the tedious veneer of the social fabric of middle class life is exposed, ripped open to bare its seedy, ugly, monstrous and greedy side.
The Faintings Spells stay cool, i.e. they remain on the surface of the pantomine, and when the dancers finally speak, they have nothing to express except a change of hairstyles (Dayna Hansen in a blonde wig) and nothing to say except an exchange of banalities. "How should I be feeling?", Piacenza asks ... "I feel sick"..."Maybe it will pass"..."Look inward..what do you see?" ..."I'm not sure how I'm feeling." And so on. Of course this soap opera dialogue is intentional, I suppose, and the bad and embarrassed dialogue fits the movement language the piece presents as a kaleidoscope of shallow social convention of women's gossip or women's human potential movements. Yet the piece also leaves a shallow taste behind, irritatingly unspecific and uncommitted to come out, to turn the page, to go anywhere.
As the movement of the swivel chair indicates, this piece is caught in a trap, a revolution around itself masking the lack of imagination. What can I do with the chair? Balance it on my head? Turn it upside down? Move it from stage left to stage right? The game of the olive, changing places from martini glass to martini glass, is a symptom of the night. "Maria the Storm Cloud" is a moderate piece of a theatre of social manners, and as dance it remains stuck in predictable improvisations of the pose. The posing of hesitation, indicated from the first moment on, is without deeper ramifications, without consequence. In this respect, the Fainting Spells in fact betray the movement of Physical Theatre, since this group is not willing to push its physical boundaries nor its psychological rules of mimicry. The play remains on the level of the giggle, the grimace, and we might feel sad that so much expectation was brought to it. How much is a giggle worth?
Johannes Birringer
10/29/1998
FOR MORE REVIEWS GO TO review archive.
_____________________________________________________________
back to CODA Home Page
---
Web site design by AlienNation Co.