BUTO-SHA TENKEI: DANCE MONTH
Piano Skeleton Fish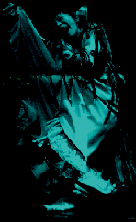 How to write a review of this mesmerizing, sometimes stunning and always captivating performance by the Japanese butoh company? It is here, in the presence of Buto-Sha Tenkei on the stage of the Kaplan Theatre (the fourth event of this year's Dance Month), that we can begin to debate contemporary dance, looking at the diversity that is promised and not often delivered, looking at the development of dance forms and dance cultures, at the content of body forms and movements created for viewers who, at least in my case, don't find it easy to write about dance without thinking of the words we choose.
I would like to suggest that butoh dance invites a metaphorical response, perhaps because it touches a poetic yearning in us or it affects us on an unconscious level not easily explicated in rational terms or descriptive language. If I were to describe this evening, "Nocturne," I would also hesitate to read too much into the associations we might like to make, with the darkness of night, with the darkness of an age (post-Hiroshima, post-Holocaust), with the darkness of the body.
My hesitation is based on an awareness of how dance forms from non-Western cultures, i.e. from outside of the modern ballet and modern dance traditions of the West, tend to be exoticized, how the word 'primitive" creeps in when one sees a certain gesture, a clawed hand or a gaping mouth or a nearly nude body. In the case of butoh, originated in post-War Japan (early 1960s) by Tatsumi Hijikata and developed also by master performers like Kazuo Ohno or Akaji Maro (the director of Dairakudakan, the company in which Mitsuko Tanaka and Ebisu Torii danced before they formed Buto-Sha Tenkei in 1981), the bodies were never nude but covered with white powder. The naked, shaven body was masked to be revealed, in all its grotesque, beautiful, powerful and vulnerable figurations, distortions of the soul of a body whose mind was shaken by certain horrors experienced or revisited in the transformative rituals of performance. Performances, we need to remember from our own history of the 1960s happenings and body art experiments, went to the edge of endurance or self-humiliation and self-discovery - there we saw rituals of debasement which were also metaphysical celebrations, or, as Antonin Artaud hallucinated the form he envisioned - they were burning the stage, creating an "affective athleticism" of concrete, explosive poetry, primal energies and intensities.
Of course we do not own our history or our cultural fantasies. When Sankai Juku started to travel and perform in the West (early 1980s), their scenographies were as complex and finely tuned and lit as the stagings of Robert Wilson's operas, and they did bring a particular set of body gestures, postures and movement expressions to bear on our imagination, just as Wilson's works or those of other directors would who experimented with movement energies and forms (Laban, Meyerhold, Grotowski, Barba, or Tadashi Suzuki). Sankai Juku introduced what later became almost a canon of "butoh styles" in the Western eye, the contorted, nude body, the clawed hand, the gaping mouth, the eyes rolled back with whites exposed, minimalist slow- motion movement (extenuated in every Eiko and Koma performance I have seen in New York), bodies seemingly weighted by gravity and energetic connection downward (to the floor, in antithesis to ballet's leaping), extraordinary movement control and the capacity to change the shape of the body.
The Buddhist influence on butoh was noted yet rarely explored in western reviewing, and the parallels to German expressionism and the dance of the grotesque (in cabaret performances of Weimar Berlin) tended to be overlooked, while the connection to Martha Graham's earlier emotional dramatism and archetypal symbolism nowadays seems to take us down the wrong, regressive path. After Cunningham, returning to Graham seemed impossible. But then again, we live in the times of nostalgia, Swing and Tango have their revivals, and Sankai Juku adapted their performance rather quickly to a slick western musical frame, their own style now, in the later 1990s, thoroughly aestheticized, sanitized and formalized. Sankai Juku seemed stuck in their own mirror, when I last saw them in Chicago, and that is where I first saw "Nocturne" (in 1996), the piece Buto-Sha Tenkei brought back to Houston after last year's short engagement at DiverseWorks.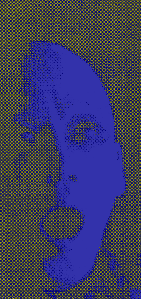 We might have expected a new work this time round, but we must nevertheless thank DW and JCC for giving us opportunity to see it again, since "Nocturne" has not aged, it has a disturbing, vibrant force, and its music alone would require a lengthy examination of Masaru Soga's collage (in the program it's called a "live mix") which has traumatic dimensions and an edginess that can be intimidating, even if there are numerous quotations of classical and contemporary music, ranging from Chopin to Argentinian and Cuban big band music and industrial rock, which are not without ironic or hilarious connotations. Perhaps it's not even a sacrilege to insist that we can now watch butoh, both close-up, fully aware of its haunting concentration on crippled humanity trying to rise phoenix-like from the ashes of the conflagration and the nightmares of history that Goya painted and Marx wrote about, and we can also watch it from a distance, perceiving its unfettered humor and graceful acceptance, Beckett-like, of the games we play astride the grave.
From the long opening moments of the huddled Mutsuko Tanaka, slowly rising like a small bird waking up, seeing the world and then growing into a 9-feet tall tree or mountain, to the extraordinarily sustained solo of Ebisu Torii near the end, when he finally emerges from behind a gauze-like column or shroud, as if coming back to life from the underworld where he burnt (his body, stunningly, is without a trace of powder, he wears black swim trunks and is smeared with ashes), "Nocturne" is walking a thin red line. It comments on its own tradition and historical sources (of the "dance of darkness" as "butoh" can be translated) while nodding, tongue-in-cheek, at the "image" of catastrophe we might be tempted to associate with Hiroshima. But the image, I think, is already deconstructed in the second sequence, when Yuki Ebine, one of the two younger dancers, enters and performs a mind-boggling hip hop fantasia on an increasingly loud Cuban big band mambo. She is dressed like a school-girl, with pigtails, wearing a Japanese flag like a sandwich board across her shoulders, and we only see her back, the red sun bouncing up and down like a buoy gone haywire.
Soon after, Yukari Ueda emerges from below the large earthcolored cloth that remained hanging from the ceiling after the opening bird image. Her dance is a slow, precise crawl on knees and underturned fingers, each movement and pause a highly focused and deliberate study of contraction, of silence in motion, of consciousness in its tiger-like awareness of the second it needs to attack or recede. References to animal-like shapes and motions abound in butoh, and the rehearsals I've taken part in work through a series of animal shapes and gestures; perhaps they are movement images or movement metaphors for the concentration of energy and focus, and most of the dance movement in "Nocturne" is typically conducted with a low center of gravity, a deep connection (with flat feet turned inside) to the earth, to the lower chakras, to withdrawal (from extension), to stillness. The facial work of the dancers is remarkable, since in most cases the face is expressionless or frozen while being full of expression, of course. The gaping mouth is not unfamiliar to our sensibilities (cf. Edvard Munch's "Scream"), and in fact such expressionism betrays a romantic heritage which Buto-Sha Tenkei acknowledges, except that we are not listening to Mozart's "Kleine Nachtmusik" but a much darker, more convulsed Dvorak or Chopin. There is only one soft piano passage near the end of Torii's solo, when he seems able, for an instant, to raise his arms high enough for an embrace. But there is noone to embrace, only shadows, figments of dreams. There are no duets in this dance.
Ueda suddenly shakes her head like a fish, and numerous silvery beads break the silence. Ebine reappears and crosses the stage laterally, from upstage right to upstage left (a Wilson-like lateral movement line). It takes a very long time for her to do this, wearing a large hoop skirt and measuring her floating walk with oft-repeated plies: here the image of the buoy returns, the stage a sea and our minds already captivated by the symbolism of this choreography which alternates, as in the best of tanztheater, the somber, derelict landscapes with the wilder spurts of hysteria. Tanaka embodies the grief of loss or the insomnia of near-insanity with all the heaviness of an opera diva or a Lady Macbeth, as in her furious finale when she is framed by the two younger dancers who wear small white cones like dunces' hats on their heads and build an emotionless chorus to the despair. Yet, in this 80-minute performance, we have already witnessed the return of Orpheus, Torii making his slow rounds, almost on one spot, staring at us, the witnesses, and gradually transforming his skeleton-body into a figure that hints at a waltz, while his eyes are lost in eyes of dreams which seem to absorb our own.
Naked and sonorous, Torii's shuffling waltz is breathtaking, utterly discomforting, as his gestures are pregnant with resignation and helplessness, what has he seen, or what does he pretend to have seen? He's a good actor, too, at the end he appears enormously to enjoy the ironies of history's returns, he waves his brown hat at us, and we think of Beckett's "Waiting for Godot" perhaps, the clowns having passed the time, Pozzo dropped by, Lucky has spouted his never-ending mad soliloquy, dark confusion of language, babble and stammer of deep solitude, in the apotheosis of theatre -that theatre of poetry and dance that cannot be seen, not in this country or this city, a theatre that could be cathartic at the limits of shadows. "Nocturne" enters into those shadows, but it is not a ritual, since it plays with too many allusions at once, knowlingly, and the mambo music, with the red sun dancing a whirling dervish salsa, distracts us from gazing too heavily into the tragic. Torii gives it away, opening his arms, with calculated hesitation, a gesture that is truly Brechtian. A Puerto Rican friend who saw the performance was utterly delighted - "a Haitian voodoo man," she exclaimed, "this dancer is Elegua, the god of the cross-roads, the trickster. He knows how to play a joke on us." Butoh-Sha Tenkei offers a stubborn challenge to our notions of the culturally specific (butoh now being an international language, world music) while employing their movement technique to a deeply provocative glance at the recovery of lost time, and that specific lost time perhaps cannot be touched, because it is fearfully hidden. On the contemporary stage, with so many diverse approaches to moving the body into sight and out of sight, butoh remains the only dance form seemingly capable of slowing down our panic, making it palpable.
Johannes Birringer
02/11/99
_______________________________________________________________
New York City Ballet
October 15-18, 1998, Jones Hall
SPA presented the New York City Ballet at Jones Hall from October 15-18, celebrating its 50th anniversary this season under the headship of Ballet Master in Chief, Peter Martins, founder George Balanchine's hand-picked successor. The evening showcased the works of Mr Balanchine, Jerome Robbins, and Mr Martins, all great ballet choreographers of this century. The works were well danced in the eclectic, though hardly uniform style of some thirty of its more than one hundred dancer complement. Familiar and fresh faces attacked the program with relish. I was fortunate to be able to view it from my second row Saturday evening seat.
The program opened with the pristine white tuniced "Concerto Barocco," a piece that Balanchine first set on one of his first companies in 1941 to the Double Violin Concerto of J.S.Bach. I might have prefered a balcony seat to view the intricate lattices of patterning achieved by the unwinding chain of the corps de ballet ladies in counterpoint to the demi-soloists, whose movements echoed the double violins so breathtakingly. The attentive partnering of Robert Lyon, the returning motif of crosscrossed arms, legs, obstacles through which the couple would break, part, or tunnel into were captivating. Balanchine's seemlingly plotless ballets ignited a whole new way to make and appreciate ballet, and his genius continues to refresh and amaze the eye of the viewer to this day.
"Other Dances," choreographed by Jerome Robbins, was pleasantly danced by Kyra Nichols and Damian Woetzel. The piece was originally made for Baryshnikov and Makarova, a playful sendup of peasant pastiche, to the Chopin preludes serenaded by an onstage pianist. The panther landings of Mr Woetzel and the musicality of Ms Nichols reflected sure and confident techniques, and an easy partnership served the casual pas de deux format exquisitely. I could not help recalling the recording of the original pair for television, and how fitting that two Russian defectors had inspired Robbins to create such a folksy but gentle tour de force to showcase their past, present and personality as well. His work almost has a narrative flesh and blood feel to it in comparison to Balanchine's often cold neoclassicism, a refreshing perspective for the audience to enjoy.
In "Agon," Balanchine's quirkiness and originality are on refined display juxtaposed with the often jarring atonality of Igor Stravinsky's score. Beginning and ending with four men, intermixing duos, trios, quartets of men and women, each part gives an idiosyncratic modeling of traditionally historic dance steps and groupings with implied reference to the mythical subject of Agon (contest). The fine cadre of men in the New York City Ballet tackled the difficult musicality of the piece with characteristic buoyancy and pliability, making them invincible gods with their chiselled msculature. One also recognized the lean asymmetrical control of the famous duet between Jock Soto and Michele Gifford, with its contortionist tendencies and sexual tension like a lion being tamed, a tail/leg around his neck...who is being tamed? Shockingly kinky even to a modern viewer, and this work was first danced in 1957!
Fittingly the evening ended with Mr Martin's "Fearful Symmetries," premiered in 1990 to the lush mesmerizing minimalism of John Adams. This work and the one preceding it were played deftly by the Houston Ballet Orchestra, who had played both prior, the latter to the choreography of Trey McIntyre. With hard stage wings bathed in an increasingly intense red, the dancers splashed onto the stage in shades of orange, peach and swaths of red with unbounded energy and athleticism, movement bouncing like rubberbands offcenter and back on. Splendid dancing, innovative partnering, spontaneity and energy unbounded soon became a series of fleeting images that never delivered lasting satisfaction. Fun to watch and to dance to, from the looks of it, but too much of a good thing spoils us. There is no doubt that Mr Martins is himself one of our national treasures, but his work has yet to stand the test of time like the good wine of Balanchine and Robbins; a tough act to follow, indeed, but like them, an acquired taste.
City Ballet looked wonderful and has stood up well under the sometimes controversial leadership of Peter Martins. One has never looked to this troupe to be a uniform crystalline ensemble; Balanchine always thrived on the individual muses of his company. I missed seeing some of the veterans, either out with injury or not along this trip. Yet the durability of the works themselves to train and inspire dancers and choreographers is an unparalleled legacy in the history of American dance. One hopes the right balance will continue to be struck as the second generation of Balanchine dancers passes the torch and Mr Martins, always in the shadow of his predecessors, has opportunity to shine forth from the foundations they have laid at his feet.
Sandra Organ
_____________________________________________________
back to CODA Home Page
---
Web site design by AlienNation Co.