HOUSTON'S CONTEMPORARY DANCE ONLINE FORUM
___________________________________________________________________
ANTONIO CAIDO
CHAMECKI/LERNER DANCE COMPANY
Diverse Works
April 8-10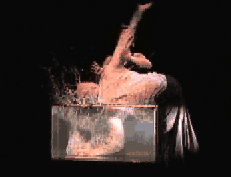 Under Water
Five dancers, each trying to tell us a story, words too weak to be heard, or muffled with hands pressed against the other's mouth, or clasping the mouth and shutting it tight oneself, each dancer trying to move, not possible alone so they do it together, upside down lying on the table, the morgue, the autopsy bench, a tall scaffold to the right, a water-filled aquarium to the left, the dancers move hands, elbows, fingers, and we see the right side up, and then the wrong side, or rather the wrong part of the story or did I see one of the dancers with the head submerged in the aquarium while others tell of the death of "Antonio" who fell through a crack and (did I see one of them reenact the fall, repeatedly, to illustrate what the voices try to tell and the movements cannot, and so the evening is a bit uncertain in the first half, the story cannot be told, or there's too much telling going on, and the contact improv continues for while and no certain gestures emerge except the pressing of hands on mouth, shutting up the rumors the gossip the speculations the hallucinations.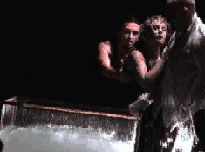 Chamecki/Lerner Dance Company is: Brazilian-born choreographers/dancers Rosane Chamecki and Andrea Lerner, and they dance with Bryan Kepple, Cristina Latici and Pedro Osorio. Brief glimpes of a grey film on black curtain show us what might have been the missing "Antonio" who might have had a love affair with one of them but who was perhaps betrayed and may have fallen or been pushed or perhaps chose to drown, as we later see in one of those actions that happen in the aquarium, Kepple submerging himself in the water for an eternity as if he had drowned, after a rough struggle with Latici which stays in line with the rough contact we see most of the evening, barely interrupted by a choreography or a solo that promoses a moment of lyricism in this rather literal drama. The drama of falling through the crack. That is acted out literally too, repeatedly, to bring home the point. Yet the dramatic curve rises towards the end, when we no longer need the rumors and the babble of words, and see the intensity of bodies and movements come into their own with a stunning ending, as we watch Chistina Latici writhing on the wet floor like a fish on land thrashing and flailing, and finally she is picked up by Kepple and carried away, her twitching body slowly dying.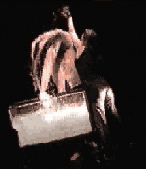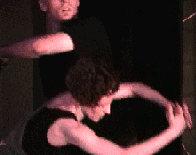 This is an unsual dance, a dance theatre not sure of itself and the languages it uses, with a cramped space that keeps the actions limited to a few areas, the aquarium as major focal point and metaphor, a little block of ice, inexplicably, melting from above, a dripping of a scattered narrative that does not capture our imagination of a possible memory or vision of who that dead person was, carrying us away, his film image a man eating pastries, pale evocation of someone who probably did neither commit suicide nor was killed but drowned, the banal ending a certainty ("the boy standing at the railing saw everything").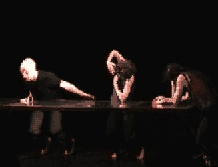 We didn't see everything, and are left with a few remarkable images, and moments of raw potential, when the dancers search for more than the weight of their bodies, when they stop clinging. This company needs to be seen again, their commitment and effort to create new expressions are obvious, and their energy guided us through the evening. I wish the music collage had been created more carefully, and less distractingly. I wish the aquarium was not such an obvious symbol, and yet i am left with memories of haunting tension, a sense of unease that is perhaps also part of close contact we have with the dancers, the water almost splashing into our faces, and we imagine the waves, the gurgling, the loss of air, the face under water trying to breathe. When Kepple drowns, he turns his face away from us, and so we are spared the illusion.
Johannes Birringer
04/19
___________________________________________________________________
DANCE CASSEROLE
AURORA PICTURE SHOW, APRIL 24.
Andrea Grover's home-cinema in the Heights, The Aurora Picture Show, was the venue for a much anticipated evening of new video-dance and dance-on-film curated by Loris Bradley (Diwerse Works). In the burgeoning field of contemporary dance in Houston, with an increasing number of dance concerts currently offered weekend after weekend, the addition of a provocative program on new danceworks created for the camera was welcomed by the audience that flocked to Grover's converted church. The old church offers an ideal setting for intimate gatherings, the screen suspended in the place where the altar once was, and we find our seats in the pews while an old film by Andy Warhol is projected (one of his "cinema verite" experiments created at the Factory). The "Dance Casserole" included a modest but very diverse menu, ranging from two surprising videos by Victoria Marks which carried thoughtful and tender narratives, to Isaac Julien's new film with Bebe Miller and Ralph Lemon and to filmmaker Peter Greenaway's treatment of a duet choreographed by Belgian choreographer Ann Teresa de Keersmaeker, one of the hottest dancemakers in Europe at the moment.
Julien's film in fact was a U.S. premiere, and we must be thankful for Aurora Picture Show's offering of "Three" (1996) as we very rarely have opportunity to see the black British filmmaker's work here in Houston. Julien is renowned for his stunningly beautiful "Looking for Langston," which deeply influenced the late Marlon Riggs and other black gay filmmakers and activists, and we have yet to see his 1995 film project on Frantz Fanon. In "Three" Julien seems to eschew a directly political stance, yet this poetic film deals implicitly with similar issues of race and sexual choice, even though filtered through a rather oblique narrative, phrases of inner voices which are laid over the physical and perceptual relations between a couple (dancers Ralph Lemon and Bebe Miller) and a woman who is both an onlooker and perhaps Bebe's lover (Cleo Sylvester). The spoken words actually don't help to strengthen the choreography which remains surprisingly fragmented and short of real impact on our imagination. We see the "couple" in a car, outside urban locations at night alternate with a very dark dance space in which we see Lemon and Miller engage in a few movement embraces, gestures and tentative relationships on and around a table with a reflective surface. "I breathe you into me, I inhale you, I'm so close, " the voice says. "It's too dark, I'm turning, why can't I feel you when you are so close to me....." The film never makes it quite clear why Lemon and Miller are dancing together and why they are too close, but the tension in their relation is felt throughout, and there are moments, when we watch the "couple" through the eyes of the other woman in their efforts to create space, space between and inside of them, that are hauntingly beautiful. The impact of the movement on our sensual awareness of the bodies is mostly achieved through the restless camera work, the blurred focus and constant changes in colorization (black and white, sepia tones, red and yellow tinges), and the nonlinear composition draws attention to this work as a film, not a dance, which is quite important to register, since the genre of videodance or dance-on-film, in general, is of course a collaborative genre, and film in this case is not documenting a dance performance but creating a new dance in the cinematic medium.
The same can be said for Peter Greenaway's filming of de Keersmaeker's choreography for "Rosa" (1995), set in the grand foyer of the Gent Opera House and shot, almost entirely, in wide angle (black and white). The cinemascopic scale of the film creates a strange, disorienting feeling, since the symmetrical architecture of the filmed space is quite dominating, and the solo of the young woman - who has arrived in an elegant black evening dress, takes her shoes off and launches into her dance - appears framed by and held tight in the classical architecture. Halfway through her dance, which is fast, energetic and muscular, we begin to realize she was waiting for her partner, and he arrives late, drops his jacket and a furious duet starts, with crashing leaps and jagged rhythms of the dancer's athletic style of communion. She jumps at him, kicks him, punishes him. This is a very demanding piece of choreography technically, with angular gestures and out-of-balance movements that strain the dancers' bodies yet give the dance a very visceral, almost dangerous flair. Throughout, however, Greenaway keeps his distance, almost as if to observe the encounter through opera glasses, and there are only 3 or 4 quick cuts where we see a close up, of a table, of the woman's shoes abandoned in space. Greenaway, in his typical style of highly artifical, aesthetic constructions of symmetries, offers us a dance in which the physical emotion of the dance is made to look almost unreal, paradoxical, in the fixed rigidity of the spatial frame.
Finally, Victoria Marks's two works, "Men" (1998) and "Mothers and Daughters" (1994), surprise us with unusual content. The first video depicts a group of 7 elderly men, immigrants and non-dancers, who perform a sequence of beautiful, tender gestures of remembrance, friendship and courtship, set in the outdoors in front of the changing seasons of the majestic Canadian Rockies. The film starts in the snow, with footsteps that are traced, and much of the movement in the film is about the men's shared recognition of a long life course, their age, charme, and gentle sense of human mortality or frailty focused in an uplifting meditative reflection on permanence and change.
Marks's second video, which highlights the relations between mother and daughter and shows us several "couples," is less successful in evoking the human depth in the awareness of intergenerational connection, although some of the dance movements here are meant to show us the similarities and playful interdependencies of older and younger women engaged in pulling away and holding on to each other. In one scene, the mother lies on the floor, and the daughter tries to lift her up with her teeth, as a dog might do attempting to pull away her owner from danger. There are other moments of simple and serene beauty that reside in the women's facing each other, recognizing each other's energies, needs, and desires. Marks's video are not only studies in movement, they are also lyrical films about our different awareness of our bodies as they grow older. The dance does not need to end, and dance is not about young, beautiful and technically trained professionals that we may marvel at in the concerts of our ballet companies. Dance, in Marks's vision, tells us about movement towards life, through life.
JB 05/04/1999
____________________________________________________________
DONALD BYRD/THE GROUP
Cullen Theatre, Friday, April 30. Presented by Society for the Performing Arts.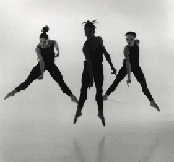 Donald Byrd's JAZZ TRAIN came to town, and a fascinating evening of high energy ballet surprised us with a technically masterful company of dancers and a provocatively intelligent choreography. Rarely are we able to watch a company of men and women dance with such abandon and precision, their concentration and execution matched with a superb lighting design and with costumes that tickled the imagination while playing tricks on our mind. Donald Byrd, who has built his Brooklyn-based company into a major organization and recently gained much praise for both his community-oriented productions of "The Monster" (dealing with aggression and domestic abuse) and his radically revised "Harlem Nutcracker," is the trickster in this concert. His three acts (Jazz 1, Jazz 2, Jazz 3), created over a period of 2 years, take us by surprise because we most likely expected a dance concert set to well-known music from the history of jazz and black culture in this century. But none of this happens, no Louis Armstrong, no Coltrane, no Davis.
The concert starts in silence, and seven dancers clad in transparen black slips, create a formation and begin with quick flips of one leg, sudden turns and finger-snaps, all the while looking at us as if questioning whether we are ready for this. When the music starts, it is a long and intense percussion solo by Max Roach, and the dance breaks into the whole stage, with solos, duets, trios and group movement alternating in swift progression, a constant flow that ripples and weaves an exciting texture of percussive motion all over the stage.
Byrd thinks of jazz as "African-American classical music," yet he treats the "classic tradition" in the way in which Stravinsky and Schoenberg treated the Western tradition, namely with ingenious irreverence and an intensity of critical emotion. In one section after another, drawing on ballet, modern and jazz vocabularies, Byrd mixes the dance and the tradition until we are spell-bound and confused, especially after "Jazz 2" when the scene-location seems to have transported us to Greece and to a retrogarde vision of the primitive, archaic source of dance and community, eros. But it is offered with immense joy and a sense of humor that marks almost all the dancer's athletic dancing, their leaps and sensational lifts and figurations in mid-air. The men in particular stand out as excellent dancers and actors who can create characters we remember, and some of women are bundles of sheer energy and brashness.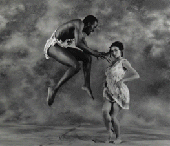 If "Jazz 2" (set to eclectic music by Vernon Reid) tends to be an ironic take on the notion of "classicism" (the dancers wear strange tunics that later on are partly taken off or used otherwise), with archetypal circular dancing framed by tall columns of white fabric and backed by a horizon that looms in incandenscent desert colors, its humor echoes the sexy flashiness of the first section in which the company turns on the heat and delivers rapid coupes and deep glissades that are purely exhilarating, as the dancers' footwork on the whole is quite snesational and always sharp. The 10 bare-footed dancers have such athletic and muscular capabilities that we sometimes see them fly through the air (in a jump) landing on a partner's shoulder or twisted around the neck, all of these jumps performed at breakneck speed that works very well to Roach's rumbling staccato drumming. The music in the second act didn't make much sense to me, it took a while to get used to the disharmonious horns and guitars and the references to middle eastern and Greek instruments. But the baffling sense of jazz as an evolving and ever-widening artform of structure and improvisation, in all its magnanimous breadth, gradually settled in, as Byrd stretched our limits of perception and explored "roots" - from the earliest ideals of democracy (in the Greek city state) to the more painful memories of African Americans stryggling to forge a culture of their own pride and beauty in America.
The third act takes us to the Mississippi Delta and a juke joint in a hot summer's night; the sexual overtones, so clearly felt in Act I aznd twisted into something more animal-like in the second, come back here and are mixed with the narrative of the song we hear about "Honey Boy" (composed by Geri Allen, sung by Andy Bay) which humorously treats the conflicts between folks wanting to celebrate their joy of dancing and socializing but remain also committed to the family/gospel tradition and church on Sunday. The circle of primal dancers we saw in Jazz 2 here becomes a group of friends that hangs out in the bar and engages in instinctive, soulful community based on shared rhythm and funk, she's gotta have it and he's gotta have it too, these dancers got game and they show it. Byrd continues to weave his duets and trios and company work along a jazzy fusion of ballet and modern which, even though Alvin Ailey-inspired, finds its own idiom, partucularly in those scenes where we see juxtapositions, side by side, between soulful pathos and almost hilarious comedy. The dancers have fun and show it, and their faces are never frozen but always part of the whole expression of the movements and portrayals. These faces and moving bodies tell us a story of the the infinite richness of tradition. This evening of "Jazz Train" left an uplifting impression on the (only partly filled) auditorium, and it was generous of The Group to come out after the performance and invite questions and comments. Let's have more of such dancing and such coming together, as we edge on and reinvent traditions we can share.
The superb dancers were: Warren Adams, Brian Brooks, Thaddeus Davis, Jean Emile, Stephanie Guiland, Massimo Pacilli, Jennifer Perry, Stephanie Powell, Laura Rossini, Wendey White.
J.B. 05/05
____________________________________________________________
MONSTERS OF GRACE
A digital opera in three dimensions
by Philip Glass and Robert Wilson
Society for the Performing Arts, Cullen Theatre
March 18-20, 1999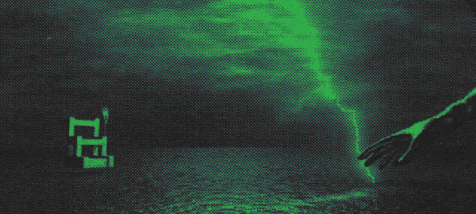 "Image is everything"
So life is beautiful, we found out last Sunday at the Academy Awards, with Roberto Benigni barely able to contain himself, his body "in tumult," as he was trying to tell his audience that he, like Jupiter, would like to raise us all up to the firmament and make love to us all. I didn't know this concept of Jovian love-making to the whole earth, nor was I aware of the 13th century Anatolian mystic poet Jalaluddin Rumi until I encountered the verses in Philip Glass's ponderous score, set to Robert Wilson's "visual concept" for MONSTERS OF GRACE.
I came away from the concert feeling both aggravated and tired, having wished that I could have reviewed the Bobbindoctrin Puppet Theatre's "Ivan the Fool" instead (over at Diverse Works), but I suppose I like continuity, having watched and admired Wilson/Glass in their early, pathbreaking collaborations (Einstein on the Beach), and having become convinced that Wilson, visual artist and scenographer, changed my perception of theatre once and for all when I studied his extraordinary stage compositions in the early 1980s (Death, Destruction and Detroit, the CIVIL warS, Alcestis). Around 1987 or so, Wilson began to direct operas from the canon (Wagner, Debussy, Gluck), later he staged plays he had not written himself, his first museum exhibition (Wilson's Vision) arrived dutifully, some time in 1990 at the CAM, and when he started to repeat himself and stretch out the already thin surface of his visual stage paintings, I lost track of the former vanguard director.
Glass, whose early work was considered minimalist and as significantly influential as Steve Reich's (although it's interesting that Reich kept his integrity of composition alive and is revered today by the new generation of DJs that remix and remaster influential beats and sounds), had a proclivity for cross-overs that made him write large scale operas along with muzak that played nicely as film sound tracks or fillers. His idea to write his own scores to old movies (like Cocteau's famous Orphee) was ill-conceived, I thought at the time, and now I am worried what I can possibly say about this latest soundtrack that was performed live by his able ensemble, in front of a slightly tilted screen downstage, as we were invited to gaze at Wilson's "visual concept" for MONSTERS, actualized by the commercial computer graphics, animation and special effects firm Kleiser-Walczak Construction Co. We were given 3-D glasses to watch the animated film, and for a moment, looking at the audience donning these cute little blue cardboard glasses, I was reminded of the 60s and the ferocius critique of the "Society of the Spectacle" provided by the Situationist International and Guy Debord. Debord attacked the already predictable evolution of late capitalism and its social formation: " the spectacle is the moment when the commodity has attained the total occupation of social life."
That was written before "Einstein on the Beach" gave us the first avant-garde opera consisting almost entirely of slowly moving stage tableaux and visual scenarios that repeat themselves to the slow, intensely repetitive progression of chords in minimal music. Wilson's stagecraft of course had a cutting edge - it refused to give meaning and satisfaction to the customer, it evoked a trance-like immersion in abstracted landscapes of the imagination, dreams of the subsconscious, perhaps tapping into repressed yearnings or unfulfilled childhood fantasies that are not allowed to linger in our efficient and over-organized technocratic economic systems. Wilson's theatrical fantasias created space, and they took time to unfold (without narrative or anything as simple as a character or plot to hold onto). They were visions of light, color, contours and textures of something perhaps unspeakable, denied in the frenzy of images that characterize postmodern global capitalism and its advertising machines. Wilson's operas were graceful emmissaries from a different planet, like Kazuo Ohno's strange dances with the flower, "just visiting this planet." In other words, Wilson's work dramatized time, and our conflicted relation to visuality, to reality and the dominant, aggressive realism that dictates the tastes of our culture even as it manages, violently, to suppress our reaction to the horrors of what we are being shown on our daily television spectacles. Life is beautiful, an enchanting comedy, a game really, as Benigni proposes, astride the grave and the camps. The informer waits in the wings. Jupiter, a whirling dervish or a mystic's fantasy, only a puppet, deus ex machina, courtesy of Hollywood's Spielbergian or Lucasian special effects division or construction company. So here we come to MONSTERS OF GRACE, watching a Spielberg-Lucas adventure in 3D, little sketches that are barely outlines to some misguided fairy-tale, or some unfinished thought, or worse (unexpected) - feeble illustration of a badly translated and blisteringly repetitive libretto that, increasingly, seemed to hover between the banal and the religiously sentimental. For Houston audiences, the screen opera was perhaps a stimulating and challenging experience, and listening to the subtle overture (synthesizers and woodwinds) made you anticipate an experience that could have been enriching. It is, after all, very rare that we encounter such (technological) collaborations on the stage, involving a libretto by a mystic poet who wrote verses for the dervish learning community and whose verses were intimately tied to music and dance and a sacred tradition of performance/worship.


But the interface of technology and the sacred is full of potential hazards, and one was eagerly looking for the kind of response Wilson might have to the poetry (knowing full well that he generally doesn't care about the semantic content and historical sediments of texts he has designed into his stage tableaux, as evidenced in his collaboration with Marxist playwright Heiner Mueller). Philip Glass opts for the familiar, his music basically has not evolved since 1984, he is unable to breathe life into these verses or feel their esctatic core, he reduces the singing to a single pose, a recital of simple harmonics and phrase repetitions that never touch upon the intensity of a whirling dance or an inner emotion, not to speak of anything experimental compositionally.
The lack of experimentation in this work is stunning. The visual rendition of Wilson's thumbnail sketches is mediocre, several sections of the 13-part libretto are basic geometric or color abstractions (the bar of light, the line/needle that cuts across in a 90-degree angle, the light that changes from white to blue and back to white), which can work powerfully in stage lighting, but look blunt and uninteresting on the screen where the 3D technology gives them a fuzzy glare. In fact, all of Wilson's sketches are familiar, the little surrealist and symbolist echoes worn out and trite, now that we have already seen them move across his stage works a hundred times, and the animated film lends them a tentativeness (slow motion alternating with clumsy editing effects and distorted angles) and clumsiness they don't have in real space. The Kleiser-Walczak Construction Co. did a disappointing job, the final scene of dark mountains and helipcopters zooming about like insects, eventually revealing a portion of the Great Wall of China, not only made no sense but looked awkward, forcing me to take off my glasses and trying to listen, for a while, just to the music, which, in a few moments, achieved something that Glass may have been striving for, an effect of mesmerizing and hypnotic ambience that makes you float in a different awareness. The visuals on the whole, however, did not manage to produce this effect, the only scene I thoroughly enjoyed involved a landscape of tiny houses and large tress, the landscape changes (as I finally seem to detect Glass's reference to Persian instruments) our perspective slowly over time, as a tiny figure from the background advances towards us on a path and eventually is perceived as a boy on a large bicycle, his feet turning and turning and his bike almost riding into our eyes, the illusionistic space of the 3D environment extending outward towards us, as if you could touch it.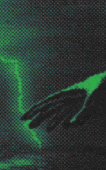 But the technological effect remained stale, for me, since the music is stuck in its pattern and cannot feel its way beyond - and the "beyond" truly seemed to be at the heart of Rumi's writing. Wilson's pageantry is equally stuck in false icons and quasi-religious surrealism borrowed from Magritte and Dali (the hand cut by the knife, the finger touching the ocean striking lightning, the chair hovering in mid-air, the little cloud moving across the screen, the little house and the little family, like Noah's arch, floating adrift and becoming swallowed by a sea monster), it never opens up, and the screen of course makes sure that the stage itself remains utterly flat, a further reduction of Wilson's prefered flattened, two-dimensional stage space and lateral movement composition. Wilson's aesthetic is now decidedly retrogressive, as he seems unaware of the new artistic experiments that have crossed contemporary dance, physical theatre, and (computer-aided) interactive designs and nervous systems, searching for a new content and new means of expression that address the hollowing out of our bodies and souls in the late culture we live in. MONSTERS OF GRACE is a weak, scattered fairy-tale animation that has no internal dramaturgy and no transformation of its own image repertoire, the music lends itself to the stagnation, failing to soar or to provoke thought on the poet's world, failing to think about our world and the reason one might want to use 3d technology at all.
In the press release, I find the following quotation from Wilson:
"I'm not giving you puzzles to solve, only pictures to hear... you go to our opera like you go to a museum. You appreciate the color of the apple, the line of the dress, the glow of the light. You go to the park, you look at the scenery...watch clouds passing. Look at the music, listen to the pictures."
So there, I went to the Cullen Museum, tried to watch the clouds passing, listened a bit to the inconsequentiual pictures, scenery floating by in mild glow, mercifully only for 70 minutes.
MONSTERS has been coproduced by UCLA Center for the Performing Arts (LA), Arizona State University Public Events (Tempe), Barbican Centre (London), Brooklyn Academy of Music (New York), Change Performing Arts (Milan), Festival Castell de Peralada (Spain), Het Muziektheater (Amsterdam), PICA (Portland), SPA (Houston), Wolf Trap Foundation, Vienna (Virginia), with additional funding and grants by (long list). We live in wondrous times of the "Top Shows, Inc," the business of presentations. People here bought into it, without questioning, and the Chronicle found it a "visually entertaning show." Not much more to ask for, then?
Johannes Birringer
03/26
__________________________________________________________________
Please mail your submissions to: orpheus@rice.edu
Visit our review archive
_______________________________________________________________________
back to CODA Home Page
---
Web site design by AlienNation Co.