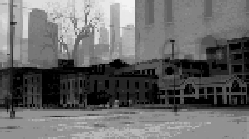 "Parachute" PERFORMANCE/INSTALLATION
The site-specific performance cycle Parachute, created by AlienNation Co. and guest artists for the International FotoFest 1998, started with three dance/film/music concerts featuring Sandra Organ and dancers and original music by Steve Pare and Patrick Clark.
The dance concerts were staged in the empty second floor industrial loft of Bayou Place on Texas Avenue.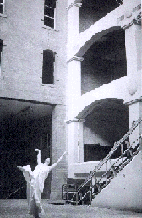 On another weekend, AlienNation Co. staged a vocal music concert at The Americas (former El Mercado del Sol) in the East End, featuring Puerto-Rican born singer and composer Lourdes Perez. The two concerts took place in the empty, raw historical space of the old building erected in 1905 and abandoned in 1984.
Both concerts were filmed and photographed. Filmic and photographic editing of the Parachute performances became part of an installation when the visual and sonic works moved indoors [316 Main Street] and were transformed into a transitory multimedia environment.
Several artists were involved in the photographic transformation of the performances as well as in contributing their own poetic images to the installation. Hans Staartjes created a series of photographs developed as close-up abstract impressions of movement sculptures.
forward to the Installation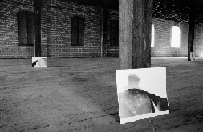 _______________________________
Johannes Birringer edited film segments of the performances in both analog and digital media. A digital film of the performance at The Americas was prepared for online broadcast.
______________________________
On July 19, PARACHUTE ONLINE entered global netspace when AlienNation Co. created a webcast of Lourdes Perez's concert at The Americas and exhibited a film of the concert on this website.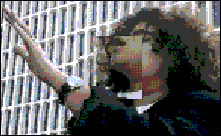 To view scenes from the concert, click the image.
____________________________
This project is supported in part by the Freed Foundation and the Texas Commission on the Arts through a Public Art Grant from the Arts Council of Houston/Harris County.
---
Web site design by WebslingerZ