an old store, abandoned, now filled again or never emptied of its decayed history, broken records, and false leads to an economy that condemns us
In-between this history, decaying images, projections, digital files of ephemeral events, performances and gatherings, a floating parachute, a dance and a music concert in another ghostly building.
The Americas, former Mercado del Sol, promises a future that 316 Main Street already questions and undermines. Vintage clothes of another era, photographs of time that has passed.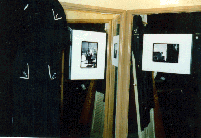 ______________________________
forward to the Installation Description
---
Web site design by WebslingerZ