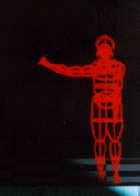 WORKSHOPS AND MASTERCLASSES
Fall 1999:
_________________________________________________________________
CONTACT IMPROV CLASS
Contact Improv is a Class/Lab/Jam sponsored by Ann Adam and Don Price.
Starting Sept. 4, through Dec. 11, 1999
We are meeting Saturdays from 3:00-4:30pm.
Location: Claire School of Dance
Upstairs in the Heights Christian Center
1703 Heights Blvd. ( between 17th and 18th Streets)
Open to all interested. All levels accommodated.
$5.00 per class.
Need More Info: Call Ann at 713.529.0596 or Don at 713.988.2765
Classes start with stretches and warm-up exercises and progress to Contact Skills work and finish with a jam and a "warm-down" exercise. Performance opportunities are available for those interested, but the dance can certainly be enjoyed for its own sake. The skills you learn doing CI are valuable for any Partnering Dance techniques.
______________________________________________________
Deborah Hay Workshop
A workshop entitled "Imagining Choreography," inspired by 12 Minutes Max, will take place on Saturday, October 23, from 10:oo am to 1:oo pm at Diverse Works.
Conducted by choreographer/performer Deborah Hay, the workshop will increase your ability to laugh at your serious intentions at any given moment. "Imagining Choreography" will especially appeal to those who have explored self-expression and find it limiting as a means to create performance and those drawn to exploring movement and voice in all its variety.
The workshop is open to the general public and all DW members.
Call 713 228 0914 for more information.
_____________________________________________________
DANCE MONTH AT JEWISH COMMUNITY CENTER
January 15 through February 13, 2000
One of Houston's most exciting dance events, Dance Month at the kaplan Theatre, presents its 2oth Anniversary celebratory season in January and February 2000 at the Jewish Community Center. This year brings back performers and choreographers who have made contributions and lasting impressions on dance month audiences for the past 19 years.
Mark Morris Modern Dance Master Class
Saturday, January 29, 1 - 2:30 pm
Intermediate/Advanced.
This masterclass is taught by members of Mark Morris Dance Group which is in town to perform at Jones Hall this weekend.
Sunday, February 13, 1 - 2:30 pm and 2:45 - 4:15
Tap Dance Masterclasses with Lane Alexander and Ira Bernstein
Jewish Community Center
Kaplan Theatre
5501 South Braeswood
For reservations call (713) 729 3200 ext.3231 or Box Office at (713) 551 7255.
____________________________________________________________
DiverseWorks announces opportunity for Independent Choreographers
Hothouse: A ChoreographerÕs Intensive Laboratory with Victoria Marks
DiverseWorks, the Jewish Community Center and Society for the Performing Arts have created a special opportunity to explore new work and the choreographic process with internationally acclaimed choreographer Victoria Marks. This opportunity is aimed at choreographers seeking an intensive time to focus on their work and process with a mentor. The Hothouse has been done in London, New York and other sites, and is best suited to individuals who want to dialogue about their work and identify questions that are troubling or enticing them about their working process. Hothouse provides an opportunity for experienced choreographers to refocus and/or refine their process. It is a resource for artists who long for a dialogue about their work.
WHO: A Hothouse for three Houston independent choreographers with Victoria Marks. Each choreographer must bring their own dancers to the project.
WHAT: Each choreographer receives a $500 honoraria and studio space for meeting and rehearsing.
WHEN: Participants must commit to an intensive workshop experience over six days, Monday - Saturday, May 22 - 27, 2000
Each day, the full group meets from 11:00 am - 1:30 pm; in addition, each choreographer works (either solo or with dancers) for a minimum of three hours.
WHERE: Studio space is provided by the Jewish Community Center and DiverseWorks.
HOW to apply: Submit your 1 - 2 page application and videotape by 5 PM Monday, January 31 to Hothouse, DiverseWorks, 1117 East Freeway, Houston, TX 77002.
See the application materials list below. Two choreographers will be selected through a review process. Applicants will be reviewed based on the sample of their work submitted and the answers to the essay questions. Choreographers will be selected by Victoria Marks and two additional panelists.
What to submit:
Name
Address
Phone number(s)
Email address
A VHS videotape with up to fifteen minutes of original work, preferably excerpts of up to two pieces or one completed work.
Please answer the following questions in one to two pages (12 point type or larger.):
Why do you want to participate in the Hothouse? What would you hope to learn about during the Hothouse?
What aspects of making work are particularly challenging to you right now? What kinds of questions are you asking in your work right now? What kind of artistic issues are coming up in your work that you would like to examine?
Victoria Marks is a well-respected and accomplished choreographer who has won numerous awards. Marks creates dances for the stage, for film, in community settings, and for professional dancers. Her work magnifies and develops the unique characters of the people she works with and communicates that, through performance, to a wider audience. Marks is currently an assistant professor of choreography in the Department of World Arts and Cultures at UCLA. MarksÕ stage work has been performed throughout the United States and Europe. Recent projects include site-specific work for the opening of LA's Getty Museum, a dinner and site-specific performance in Antwerp, Belgium, Ah-Q, a Dance/Theatre collaboration with Beijing playwright, Xu Ying and an evening length work for a group of twelve fathers and daughters. Marks was honored with the 1997 Alpert Award for Outstanding Achievement in Choreography, and has been the recipient of several grants and fellowships from the National Endowment for the Arts, among others.
The Hothouse is generously supported by Society for the Performing Arts, The SURF Fund of the National Performance Network, and the Jewish Community Center.
____________________________________________________________________
Harvestworks Courses
New Fall Classes for September and the beginning of October
See our website for more info about these and other classes www.harvestworks.org or e-mail Laurie H. Brown, Education Director harvestw@dti.net or call her at 212.431.1130
AN INTRO. TO MULTIMEDIA TECHNOLOGY Jennifer and Kevin McCoy 1 Saturday September 25 12:00-3:00 $40/members $50/non-members. AN INTRODUCTION TO PHOTOSHOP Tennessee Rice Dixon 2 Wednesdays September 22, 29 6:30-9:30pm $200/members $250/non-members ANIMATION FOR THE WEB FEATURING FLASH 4 Karthik Swaminathan 2 Tuesdays September 21, 28 6:30-9:30pm $200/members $250/non-members AN INTRODUCTION TO PREMIERE Joe Maller 3 Thursdays September 23, 30 October 7 6:30-9:30pm $310/members $360/non-members Artists Teaching Artists
$40/members, $50/non-members
Video Art and Video Installation with Amy Jenkins
Tuesday, October 5 6:30-9:30
Designing Multimedia Interactivity with Tennessee Rice Dixon
Saturday, October 9 12:00-3:00
QUICKTIME VR DEMONSTRATION
Zoe Beloff Tuesday October 12 6:30-9:30pm $40/members $50/non-members
DESIGNING A WEB PAGE
Jennifer and Kevin McCoy 1 Saturday October 16 11:00-6:00pm $200/members $250/non-members
AFTER EFFECTS 4.0 BASICS
Joe Maller 3 Thursdays October 14, 21, 28 6:30-9:30pm $310/members $360/non-members
INTRODUCTION TO SOUND TECHNOLOGY
Sean McFaul 3 Thursdays: October 7, 14, 21 6:30-9:30pm $310/members $360/non-members
PRO TOOLS BASICS
Paul Geluso 3 Wednesdays October 6, 13, 20 $310/members $360/non-members
Harvestworks, Digital Media Arts Center 596 Broadway Suite 602 New York NY 10012 212-431-1130
Harvestworks.org
Harvestw@dti.net
___________________________________________________________
AlienNation Co's Performance/ART AND TECHNOLOGY WORKSHOP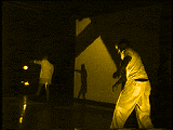 · dance in virtual space

· manipulate your photographic images

· paint landscapes with music

· compose poetic videos

Open to artists from all visual and performing arts media.

JANUARY 17- FEBRUARY 26, 2000 - TO BE RESCHEDULED for MARCH!

Mondays and Thursdays 7:00pm - 9:30pm

Early Registration Complete form + send $50 deposit payable to AlienNation Co.

518 Hawthorne, No. 2 Houston TX 77006

Postmarked by January 15

$300 full course

Please call to reserve your participation, limited enrollment.

Location Winter Street Art Center

The workshop will utilize among others: Adobe Premier, Photoshop, Lifeforms, Big Eye, Page Mill, SoundMaker, Quark, Photographic development, video camera, editing and sound processing equipment available.

AlienNation Co. produces work in dance-theatre, music, multi-media art, installation, interactive design and CD/CD-ROM formats. This workshop is the first in a series of new digital dance/photography workshops designed to explore live interactions between performers, cameras and computer software

For information, visit our website: www.ruf.rice.edu/~orpheus/ or call 713.521.3325

__________________________________________________________

Jung Center

Intrinsic Motion

Adventures in Movement Using the Feldenkrais Method

Tuesdays 12:30-1:30pm

Body class embracing both the physical and transformational aspects of the method. This class is both an introduction to the method and ideal for continued study. If you are concerned about using your lunch hour in slow delicious movement, just consider how productive you will be the rest of the day. This round I have added another six week session. You can take the first session, the second, or be smart and take both. Dress warmly and bring a soft mat.

Call 281-370-0156 or the Jung center at713-524-8253 for more information

_____________________________________________________________

AlienNation Co. announces New Book and New CD-release