CODA

HOUSTON'S CONTEMPORARY DANCE ONLINE FORUM

______________________________________________________________

CLOUD GATE DANCE THEATRE OF TAIWAN in London
"Songs of the Wanderers"
Sadler's Wells, London
April 13-17, 1999
"Songs of the Wanderers" is the debut of one of Asia'a leading dance companies in the UK. A few months ago, Pina Bausch returned to London (Sadler's Wells) after a long absence, showing her long and intensive "Viktor" dance piece, and now British audiences are invited to another major event, the 80 minute meditative and lyrical expressionism of CLOUD GATE, a company of exquisite dancers trained in Asian dance forms, Tai Chi, butoh-influenced Buddhist movement languages, Martha Graham technique, and meditation.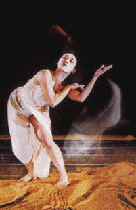 The company performs to Georgian folk tunes sung by a male choir, and near the end of the dance there is an extended exploration of Sufi whirling, evolving on a stage which, increasingly, has filled with tons of yellow rice that shimmers golden under the light and becomes like streams of otherwordly rivers - rivers of a vision of trance that is beyond description.
The dancers work with and in the field of rice, moving slowly as if nature had begun to reflect on its own seasons and its cyclical memories. The dancers, carrying branches, become a landscape, transform into an oratorio of slow gestures that sometimes, as in a storm, erupt into sudden tempests of emotion, while all through the evening, one dancer stands still on stage left, entranced in private meditation, a steady trickle of rice falling on his shaven head and forming a small mountain at his feet. At the end, the dancers leave, but one man remains at work, a cosmic farmer tilling the earth and plowing, slowly, very slowly, the golden rice field. A spiral emerges as if a mandala was built to our quiet comprehension of eternity. This is a dance that asks for our release, letting go, entering into another world, a world seldom evoked in western dance or theatre. It also walks a thin red line, the border of mysticism and kitsch. But the audience was hushed, there was a concentrated silence that spoke about emotions barely acknowledged perhaps. Near the end of the dance, four men enter with large ceramic bowls of burning fire; they gradually step behind 4 female dancers who cover their heads with a white cloth, and then the fiery bowls are placed on their heads. We watch the burning.
At the conclusion, the cosmic farmer has plowed the rice field and created his spiral-mandala. From where I am sitting, high above, the spiral also looks like a golden-red target, the circle that our bombing squads see when they fly over the clouds of Kosovo, barely knowing the ground on which people move. The target burns a hole through our imagination.
JB
04/19/99
____________________________________________________________
Dancing with the Mouse: Format for the Future
October 7-10, 1999, Charlotte.
An international conference dedicated to the practitioners who want to enhance their skills in combining dance technology and dance education.
We encourage anyone who teaches even small portions of dance to register. This conference has been planned to include hands on work with software specially related to dance and dance teaching using two 24 station MAC and IBM computer labs. While the focus is to "connect us technologically," other exciting studio sessions and panels will provide balance to each day.
PROGRAM:
PRE-CONFERENCE Sessions Thursday, October 7, 1999
1. All day visit to the Charlotte-Mecklenburg Schools to observe dance and to visit with the dance teacher(s). Special Fee for transportation; Buy your own lunch. $30.00 (for transportation and van rental)
2. 2:00-5:00 p.m. In Depth Dance Technology: Hands on-software related to dance (must have general experience with a computer). $30.00 MAC lab: Technology in the Syllabus: Creating Sound Scores Luke Kahlich, Temple University (tentative)
PC lab/studio: Dancing within an Interactive Performance Environment Mary-Lou Michael, Charles Campbell Secondary School, Australia
*CONFERENCE OPENING SESSION, Thursday, October 7, 1999, 7:00 p.m.
Keynote Speaker: Dr. Tom Calvert, creator of Life Forms, British Columbia, Canada
* Daily Schedule: Friday and Saturday, October 8,9, 1999. 8:45-10:15;break;10:30-12:00;Lunch,1:30-3:00;3:15-5:00;Dinner 6:00; Concert and Evening Programming 7:30
Friday dinner speaker:
Carolyn Adams (Dance Legacy Project, former Paul Taylor Company member) Saturday dinner speaker: tentative: South Carolina State Department of Education
* Sunday, October 10, 1999.
8:30-Noon: Copyright: How complicated is it? Madeline Nichols, Curator, Lincoln Center Dance Collection, G. Harvey Dunn III, Copyright lawyer, Vinson & Elkins, Dallas, TX, and CD Rom developers
Dance for the Disabled (current PC terminology)/Session #4 Jane Elin, Very Special Arts
Ballroom Dance: Peaceable Partnerships (Conflict resolution) Anne Stewart, De Mar University and Stan Bobo, Stephen F. Austin State University
Proceedings - available for purchase at the last session on Sunday.
SAMPLE PROGRAM SELECTIONS:
Computer Assisted Dance Education/Mila Parrish
Unnamed event/Shirley Ririe
Technology in the Syllabus: Where to Begin?/Luke Kahlich
Dance for the Disabled[4 independent sessions throughout conference]/ Margot Faught and Jane Elin
Dance History Studio component: Traditional Chinese Dance/ I-Shiang Liu
Going Beyond Technique: An Interactive Guide to Music for Dancers/ Robert Kaplan
Movement Science Research: Applications for the Dance Educator/ Sandra Minton
Labanwriter 4.0 - New Version of Software for Motif Writing and Labanotation/Lucy Venable and David Ralley
*On Site Registration **if you plan on site registration, please call ahead to check for space availability at the conference and at the motels (The new Mel Gibson movie is shooting here and this is a major Charlotte Speedway weekend).
NDA member Professional $150.00 Student $ 70.00
non member Professional $200.00 Student $ 100.00
ADDITIONAL INFORMATION:
Judy Oberle, NDA 1900 Association Drive, Reston, VA 20191-1599 V: 703.476.3436
Dr. Joanne M. Lunt, Department. of Theater and Dance, Winthrop University, Rock Hill, SC 29733 E: luntj@winthrop.edu, V: 803.323.4854
Dr. Keitha Donnelly Manning, Department of Ballet and Modern Dance, Texas Christian University, TCU Box 297910, Ft. Worth, Texas 76129 E: K.Manning@tcu.edu, V: 817.257.6074, F: 817.257.7675
________________________________________________________
Pictues of (E)motion Festival in Cologne, Germany
We will organise again in 2001 our festival PICTURES OF (E)MOTION. It is an interdisciplinary arts festival with the main focus on dance, film and new media technologies. We are always on the outlook for new work and institutions/initiatives who work with a similar interest.
Looking forward to your response
Contact us at TPKoeln@aol.com
Madeline Ritter
director
DANCEMAKER OPENED IN HOUSTON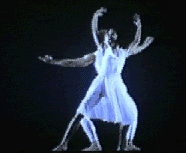 Matthew Diamond's acclaimed and Academy-nominated documentary film on the Paul Taylor Dance Company, "Dancemaker," opened in Houston at the Riveroaks Landmark Theatre, April 30.
CODA is planning to show the film again during its film/video presentations accompanying the FIRST ANNUAL CONTEMPORARY DANCE AND MUSIC FESTIVAL in October, when the season starts off with the annual outdoor dance event created for Outdoor Miller Theatre.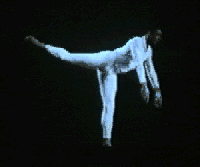 "Dancemaker" offers an in-depth look at Taylor's company, his dance ideas and rehearsal process, excerpts from numerous choreographies and also from the company's performances in India and at City Center in New York.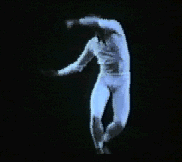 There is also some riveting archival footage of Taylor dancing in the 50s and 60s, intermixed with his re-creation of an original solo for one of his current young company members. The film presents backstage views on the company from a variety of perspectives, including Taylor's own of course, but also from his dancers, managing director, former company members and New York dance critics.
We are interested in your opinion on "Dancemaker" - please submit your review.
___________________________________________________________________
CODA OPEN HOUSE
On closing night of the exhibition Blurred Boundaries, November 8,1998, CODA presented the premiere of a new documentary film on dance in Houston.
"Contemporary Dance in Houston" by Johannes Birringer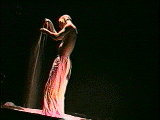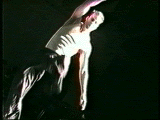 During the discussion and open mic, the audience devated "The Future of Dance in Houston/CODA."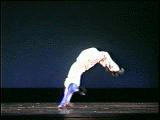 Moderated by Harold Eisenman. Presentation of CODA plans for the First Annual Festival of Contemporary Dance and Music 1999 by Christina Giannelli and Johannes Birringer
WINTER STREET ART CENTER
2123 Winter Street, Houston
For information call 713.861.3782 or visit www.winterstreet.com
_______________________________________________________
MERCE CUNNINGHAM'S "HAND-DRAWN SPACES"
A new experiment, Merce Cunningham's choreography for 3D animation, was first presented recently at the technological exposition of SIGGRAPH in Florida, attracting a lot of attention and feedback.
Since the topic of Hand-drawn Spaces had been discussed vigorously on the dtz network, you might be interested to know that it is now opening as an installation at the Wexner Center for the Arts in Columbus, Ohio.
"Hand-drawn Spaces" is a virtual dance created by Merce Cunningham, Shelley Eshkar, and Paul Kaiser. You can find more information about it, as well as other dance and multimedia projects, at www.riverbed.com.
At Wexner, the piece is part of a larger show entitled Body Mecanique: Artistic Explorations of Digital Realms.
It runs from September 19 through January 3rd.
For info:
Paul Kaiser
Riverbed
New York, NY 10013

212.620.3930

212.620.3156 (fax)

paul@riverbed.com

________________________________________________________________

Dance Technology and Education Conference in South Carolina, October 1999

Final announcements about this conference are forthcoming. As of now it is a joint conference between the National Dance Association and the National Dance Education Association. The birth of the second organization during this past year delayed the conference from 1998 to 1999. As soon as we have final confirmation as to the details, they will be posted on this and other listserves. Thank you for your patience.. Keitha Donnelly Manning

___________________________________________________________

Please mail your submissions to: orpheus@rice.edu

_______________________________________________________________________
back to CODA Home Page
---
Web site design by AlienNation Co.