REBECCA LOWE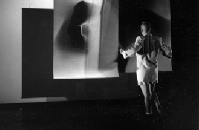 Rebecca is a performance artist and dancer who currently resides in Houston. She has performed with Infernal Bridegroom Productions, starring in Tamalalia 2, together withn Tamarie Cooper. She has also worked a stage manager and lighting assistant at DiverseWorks, and contributed to other productions in Houston's independent performance network. Sje joined AlienNation Co. in the spring of 1998.

Recent professional work:

May 21, 1998: NORTH BY SOUTH, premiere of new dance/film concert, Diverse Works, First Annual Fringe Festival of Contemporary Dance and Performance.



---
Web site design by WebslingerZ