JOEL R. JOHNSON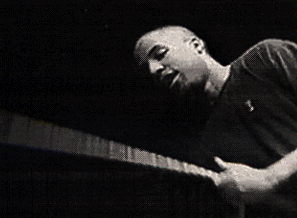 STUDIO OBSCURA
Address Until 6/97: 1915 Maple Ave. Evanston, Il 60201 TEL. (847) 332 - 4156
Joel R. Johnson, age 22, is an African-American of mixed descent, and emerging media and video artist, whose work meditates on the new lexicon of contemporary urban youth culture and its rituals. After a childhood of tasteful excursions into Arts and Crafts, his palette soon warped with hormonal fluxes enabling him to explore the more psycholinguistical elements of his contemporaries, peers, and environment. The urban sprawl of Cleveland's East Side (now under redevelopment) gave way to the edgy bliss of suburbia. After four years in exile at Swarthmore College in Pennsylvania, Joel discovered that he and his creative writing had actually gained a body, a black body, with organs of creative will. His creative writing instead of gaining a voice, gained sight. Amidst the decadent lines of receeding city lights, the neural networks took that sight down ISDN lines and Y/C signal wires.
"My early performance work in college almost always relied on sensory information, words were just words. If I wanted to hear a play, I would just read it. My mind could provide the voice. Now, if I wanted to see something, I mean not just see but know it, I would make a performance from the material. My first works on video were about learning how to see through the apparatus of recording, an altogether different way of looking. The video apparati (tape, camera, vcr, mixer) are wonderous tools to use to remix your vision, but don't let their playful ease and electronic purrs fool you, they have a strong influence on the way we see."
Influences: Katsuhiro Otomo,Robert Wilson, The Future Sound of London, Marcel Duchamp, Vito Acconci, DJ Spooky, William Gibson, Espresso.
Joel's current work includes the organization of a international touring video program of work by emerging video artists, "Visions @ Millenia's End," to premiere at the 1997 Blue Rider Nights Festival in Chicago. He is also hard at play on his video installation, "Interferences for a Chamber" to open at Northwestern University in early Spring. Lastly, his work on artificial intelligence with the multi-media performance group Alienation Company as well keeps him busy, invigorated, and inspired.
His recent professional work includes:
Videography:
1997 "Interferences #2"
1997 "The Figure at Twilight"
1997 "Just Out of Sight"
1997 "Simon Says," with Imma Sarries-Zgonc
1996 "By Any Other Name"
1996 "Lights On Nudes"
Multimedia Performance
1996 "LBLM", Split Screen Festival, Chichester, Engalnd
Joel can be reached via email at: j-johnson11@nwu.edu



---
Web site design by WebslingerZ