112. L. A. Pretzer, K. N. Heck, S. S. Kim, Y. Fang, Z. Zhao, N. Guo, T. Wu, J. T. Miller, M. S. Wong, "Improving gold catalysis of nitroarene reduction with surface Pd" Catalysis Today, in press (2015)DOI: 10.1016/j.cattod.2015.07.040

Nitroarene reduction reactions are commercialized catalytic processes that play a key role in the synthesis of many products including medicines, rubbers, dyes, and herbicides. Whereas bimetallic compositions have been studied, a better understanding of the bimetallic structure effects may lead to improved industrial catalysts. In this work, the influence of surface palladium atoms supported on 3-nm Au nanoparticles (Pd-on-Au NPs) on catalytic activity for 4-nitrophenol reduction is explored. Batch reactor studies indicate Pd-on-Au NPs exhibit maximum catalytic activity at a Pd surface coverage of 150 sc%, with an initial turnover frequency of ?3.7 mol-nitrophenol/mol-metalsurface/s, which was ~5.5× and ~13× more active than pure Au NPs and Pd NPs, respectively. Pd NPs, Au NPs, and Pd-on-Au NPs below 175 sc% show compensation behavior. Three-dimensional Pd surface ensembles (with ?4–5 atoms) previously identified through X-ray adsorption spectroscopy provide the active sites responsible for the catalytic maximum. These results demonstrate the ability to adjust systematically a structural feature (i.e., Pd surface coverage) to yield a more active material.
111. M. M. Viana, M. C. F. S. Lima, J. C. Forsythe, V. S. Gangoli, M. Cho; Y. Cheng, G. G. Silva, M. S. Wong, V. Caliman, "Facile Graphene Oxide Preparation by Microwave-Assisted Acid Method" J. Braz. Chem. Soc., 00(00), 1-7 (2015)DOI: 10.5935/0103-5053.20150062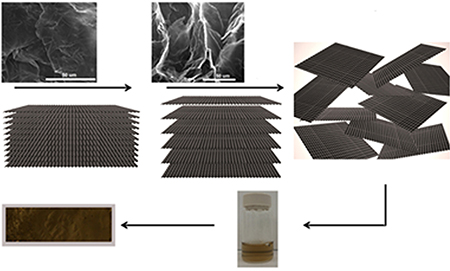 Few-layered graphene oxide (GO) was prepared using a fast and energy-saving method by microwave-assisted acid technique. The oxygenated groups existing on the GO surface were determined using UV-Vis, X-ray photoelectron and Fourier-transform infrared spectroscopies. An oxygenated group percentage of 30% in mass for the GO was observed by thermogravimetric analysis. The reduced few-layered graphene oxide (rGO) film annealed at 110 °C deposited onto a silicon/silica wafer showed expanded graphite-like structure with 0.70 nm between the rGO sheets, as determined by X-ray diffraction. This rGO film exhibited a relatively high electrical conductivity value of 7.36 × 102 S m-1 confirming the good restoration of the p-conjugated system. The prepared GO sample exhibited good stability in water from pH 4 to 12, as determined by its zeta potential, and contained 5 to 9 layers, as determined by atomic force microscopy (AFM) and transmission electron microscopy (TEM).
110. Z. Zhao, J. T. Miller, T. Wu, N. M. Schweitzer, M. S. Wong, "EXAFS Characterization of Palladium-on-Gold Catalysts Before and After Glycerol Oxidation" Topics in Catalysis, 58(4-6), 302-313 (2015)DOI: 10.1007/s11244-015-0371-3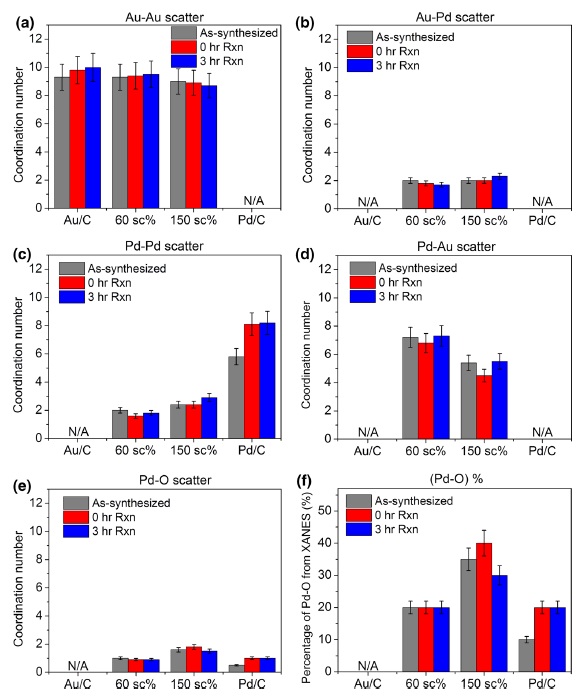 Supported precious metal catalysts have been studied extensively for selective oxidation as a means to upgrade glycerol, a low-cost byproduct of biodiesel manufacture. We recently used a model bimetallic catalyst (Au nanoparticles decorated with Pd and immobilized onto carbon, "Pd-on-Au/C") to study the metal nanostructure effects on glycerol oxidation. In this study, a detailed X-ray absorption spectroscopy analysis of Pd-on-Au catalysts before and after glycerol oxidation (60 °C, 0.1 M glycerol, 0.4 M NaOH, and constant O2 flow at 1 atm) is presented. Catalysts with two Pd surface coverages (60 and 150 sc%) with comparable turnover frequency values were studied, along with the less active 4-nm Au/C and 4-nm Pd/C as control samples. Extended X-ray absorption fine structure analysis showed that there was no change to oxidation states and coordination numbers for 60 sc% Pd-on-Au/C and Au/C catalysts after contact with the glycerol reaction medium or after 3 h of glycerol reaction. With a higher fraction of oxidized Pd (~40 %) than 60 sc% Pd-on-Au/C (~25 %), the 150 sc% catalyst showed some variation in oxidized Pd content before and after glycerol reaction. Pd/C grew in Pd particle size and became more oxidized after contacting reaction medium and after 3 h reaction, contributing to its observed catalyst deactivation. Structural stability and catalytic activity are improved for the water-phase oxidation of glycerol and likely other alcohols when Pd is supported on Au, highlighting the potential advantages of using Au as a support for other catalytically active metals.