Membership is open to any member of the Rice community, but does expire if you don't attend any meetings, outings, or events for one month.
THE SAFETY TEST
The club has a mandatory safety test regardless of your prior experience. At your first meeting, we will provide instruction in basic firearms safety, then administer a simple written test to determine if you've learned the basics. You will handle firearms in a safe manner or you will not be going anywhere with us. The reason is simple: none of us want to see this: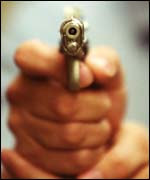 That said, don't worry too much because gun safety is very simple and anybody can learn it if they try. Go to the Learning page to find out what will be on this test.

Once you have passed the basic firearms safety test, you are a preliminary member of the RSC, which entitles you to a trial outing. After the trial outing, you must pay $20 of dues to become a full member. If you think $20 is too much, keep reading and find out everything it buys you.
BENEFITS OF MEMBERSHIP
1. Free comprehensive membership to American Shooting Centers, a $225 value, providing free or significantly reduced rates for shooting at this world-class range.

2. Free instruction: With Officer Greg Beaves as our faculty sponsor and a number of accomplished shooters as members and officers, you will have the opportunity to learn how to shoot nearly any type of firearm under experienced supervision. We are always happy to teach or help you sharpen your skills. Never stop learning!

3. Pooled ammunition: As a large group, we are able to purchase ammunition in bulk, saving each interested member even more money on ammunition, which is usually the next most expensive part of shooting after range membership and instruction! (Well, assuming you don't keep buying new guns like some of our members.)
4. Access to club guns: The RSC owns 14 guns available for your use on outings! Go to the Armory for more info.

5. Club funds: The RSC also has a small chunk of money that can be used for any purpose which betters the club. Said use is open for discussion.

6. The chance to shape a new and exciting club: The RSC is newly rejuvenated. Your votes on budgeting and other issues will count. This semester we received $1000 from Rice to spend on what our members saw fit. What do you think would be a good RSC investment?

So there you have it. Once you become an RSC member, everything that normally burns out a recreational shooter is either free or cheap! Why wouldn't you join?