Webster Trio Japan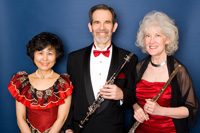 In Japan, Buyse and Webster perform with pianist Chizuko Sawa as the Webster Trio Japan, touring biennially throughout Honshu, Hokkaado, and Kyushu and giving recitals at Tokyo Bunka Kaikan , Minato Mirai Hall in Yokohama and Suntory Hall in Tokyo. Their Nami/Live Notes recording, "Sonata Cho-Cho San," features Webster's arrangements of music from Puccini's Madama Butterfly, Mozart's Die Zauberflöte, and Bizet's Carmen, published as Carmen Rhapsody by International. In the fall of 2009 the trio's new disc, "From Vienna to Budapest," will be released on the Camerata label. This will highlight three additional Webster arrangements: Brahms' Hungarian Dance Suite No. 2, Schubert's Grand Sonata in Bb, Op. 30 for clarinet and piano, Schubert's Hungarian March and Rondo, and Bartok-Arma's Suite Paysanne Hongroise for flute and piano. On March 11. 2009 the trio presented the world premiere of Trio Webster by the esteemed Japanese composer Toshi Ichiyangi. This commission was written to commemorate the centenary of the birth of Michael Webster's father, pianist Beveridge Webster, with whom Mr. Ichiyanagi studied at the Juilliard School from 1954-56. The Webster Trio Japan is represented by Pro Arte artist management in Tokyo.
Webster Trio Japan educational outreach
Webster Trio Japan is deeply committed to music education. During concerts their interactive commentary greatly enhances the enjoyment and understanding of audiences. While touring, they seek opportunities for outreach through visits to elementary, middle, and high schools as well as universities. One of their most memorable school concerts to date was for a student body of 12 in a rural area of southern Japan. Following the trio's performance, during which Buyse and Webster had addressed the schoolchildren and faculty in Japanese, the school's principal gave a speech explaining that he had just learned how to be a more effective teacher and also how to enjoy classical music for the first time in his life. One of the students later wrote "When you played, I felt a fountain in my heart."