RICE UNIVERSITY MECHANICAL LABORATORY
(circa 1912)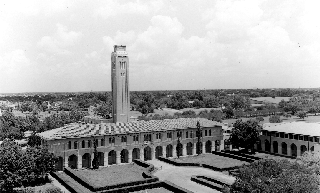 Before the construction of any building at Rice, Edgar Odell Lovett, Rice's first president, conducted a world-wide tour of universities, in part to search for an architectural model for the new university. He chose a distinct Mediterranean style that is noticeable in many buildings across the campus.
The historic Mechanical Engineering Laboratory was the first building to open on campus in 1912. Designed by Cram, Goodhu, & Ferguson of Boston, the landmark bell tower or "Campanile" behind the laboratory was a disguised smokestack for the power plant.
---

Rice University • 6100 Main Street • Houston, Texas • 77006