Welcome to the Sylvan Family's Website
The Richard G. Sylvan family lives in Houston, Texas, and includes Linda, Dick, Leigh, Carolyn, and a golden retriever named Hannah. Linda and Dick have lived in Houston since 1978. Their daughter Leigh, 18, will be a student at Rice University in the fall and daughter Carolyn, 16, will be a junior at Lamar High School. Dick is a senior vice president at Bank One, Texas and Linda is executive director of the Rice Design Alliance at Rice University. This page is under construction.
---
Links:
Rice University homepage
Rice Design Alliance
Bank One
The Weather Channel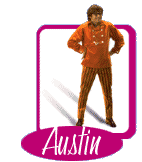 Austin Powers is one of Carolyn's favorite movies.
---
This page was last updated on June 22, 1999.

For questions or comments please contact sylvan@rice.edu