WELCOME
Welcome to the Raphael Group Home Page. This site is under construction, so please bear with us while we get all the links working.
Dr. Robert Raphael began his lab in 2001 and since it has grown to include 6 graduate students and 3 undergraduate students. Two other undergrads recently finished their degrees in Bioengineering and have moved on to medical school and graduate school in Bioengineering. Congrats Nathan and David (respectively)!
Those of us that remain are hard at work uncovering the mystery behind biological and artifical membranes. To learn more about individual research projects ... follow the people link. To learn more about the lab's goals overall ... follow the research link.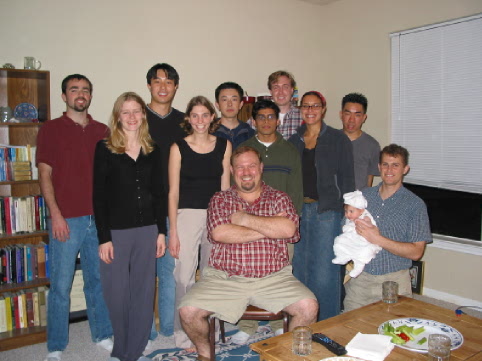 From Left: Nathan Spencer, Emily Glassinger, Jonathan Lee, Louise Organ, Yong Zhou, Imran Quraishi, Jeff Triffo, Jenni Greeson, David Tran
Front: Dr. Raphael, Pascal and Zoey
---
This site designed and maintained by Jenni Greeson
Best viewed @ 1280 x 1024 with Internet Explorer
Copyright © 2003 Rice University. All Rights Reserved.
Last Updated - 09.08.03