Welcome to the Tropospheric Ozone Pollution Project, a research project funded in part by the Shell Center for Sustainability, in part by NASA, and in part by the Texas Commission on Environmental Quality's New Technology Research and Development Program.
Use the links at left to find information on ozone pollution, our funding sources, a launch schedule, and ozone data. You can even find trajectories predicting the path of our balloons.
This summer, we continue launches from the University of Houston's main campus, examining summer pollution over Houston with funding from NASA and TCEQ.
Our project has received a fair bit of media coverage. Follow the link to find out more.
NASA runs a feature about TOPP on their website. Click here.
Launch on July 19, 2004 detects high levels of ozone up to 4 km above the surface of the city of Houston - click here.
A layer of high ozone was also detected on July 13, 2004 - click here.
5-day back trajectories from NASA indicate the arrival of air from Alaska and Canada in Houston during the period July 15 - July 20. Smoke from fires has contributed to air quality problems in Houston over this period.
If you find a balloon payload, do not be afraid. They contain nothing dangerous. We'd like to know where and when you found it. Just email us. Also, if you mail the payload back to NOAA in Boulder, CO, you can earn a $30 reward.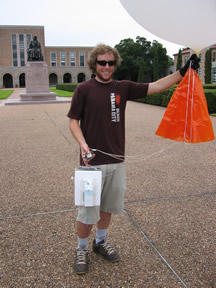 Undergraduate Scott Hersey prepares to launch a weather balloon from the main academic quadrangle at Rice University.