Session 11 (02/22)

INTERACTIVE SPACE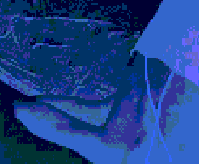 Group members meet guest artists Stephan Silver (London) and Serena Lin and discuss performance in space/architectures of real installation and interactive constellation. Stephan describes his sculptural work with sensor pads and gives us a tour of Macromedia Director. Serena shows her "Visible Traces" video/animation installation.
Members of AlienNation Co. prepare radio show (KPFT) preview of "Litany for a Dead Earth" and Christy's new video-sculpture for the live concert/installation opening on March 5 & 6.
The lab will have its last meeting on March 4, after Johannes returns from IDAT99 (Arizona).