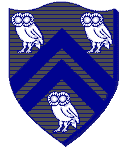 Outreach Subcommittee for Natural Sciences Strategic Planning at Rice University

Mission Statement
To work with K-12 school systems, teachers, and students in order to improve science education.

To form partnerships with industry and with other institutions to provide avenues for the transfer of scientific and technological information.

To work for the increased public awareness of science and technology, and specifically, to increase the visibility of the graduate programs in the Wiess School.


THANKS to all those who participated in the workshop related to Outreach on Saturday, January 18. A summary of the comments and suggestions that emerged from this workshop is available.



Topics and Issues
Definition of Outreach; Its Recognition and Rewards
What is the definition of outreach? What are the ways in which we recognize and reward this activity? Why should Rice University be involved in outreach activity? Why should its faculty, students, and staff be encouraged to participate?

Our inventory of outreach activities disclosed a wide variety of activities on the part of individuals. The scope found was unexpected by the Subcommittee, and it appears that most such activity goes completely unnoticed. Should outreach activities be officially recognized by the University? If so, how should they be recognized?

Facilitation of Outreach
What can or should be done to facilitate the outreach activities of individual scientists? Should there be a university office that coordinates individual outreach? Shoudl we be doing more to encourage our students to participate in outreach activities? The use of the World Wibe Web for outreach purposes is increasing, and its potential in this area is only slowly being realized. What should the Wiess School do to facilitate such activity?

Educational Outreach Programs
Several education outreach projects exist within the Wiess School which are having significant impact on local K-12 education:


The Model Science Lab in Ecology and Evolutionary Biology

The Galveston Bay Project in Biochemistry and Cell Biology

The Rice University School Mathematics Project in Mathematics

The Houston Museum of Natural Science "Public Connections" program in Space Physics and Astronomy



Is there interest on the part of the faculty in getting involved in one of these projects? Should we encourage other such projects?

Outreach to the Community
While there is some ongoing outreach activity aimed at increasing public awareness of science, there could be more. What can be done to increase such activity? There is very little activity in the Wiess School aimed at interaction with industry. Is there a need for more? If so, what should be done to facilitate such activity?

Members of the Outreach Subcommittee
John Polking, Mathematics, Chair
Fred Rudolph, Biochemistry and Cell Biology
Seiichi Matsuda, Chemistry
Joan Strassmann, Ecology and Evolutionary Biology
John Anderson, Geology and Geophysics
King Walters, Physics
John Freeman, Space Physics and Astronomy
Ken Kennedy, Computer Science
Scott Biddy, University Advancement
Mary McIntire, Continuing Studies

Other Subcommittees

Steering Committee for Natural Sciences Strategic Planning

Updated by Rachel Miller (rmiller@rice.edu)
10-Jun-97