The Scrapbook
Please help contribute to the scrapbook by submitting any relevant content to our historian, Elizabeth Bartmess. This page will be updated periodically when new content is received.

98-99 events: Habitat for Humanity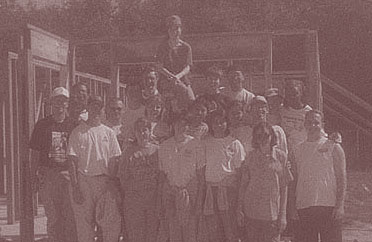 Nails. Hammers. Gloves. Wood blocks. These things and some tender loving care are really all that you need to build a house, as some Rice Chapter members discovered one Saturday morning in late October while volunteering with Habitat for Humanity. Founded in 1976 by Millard and Linda Fuller, Habitat for Humanity is a nonprofit, ecumenical, Christian housing ministry dedicated to eliminating substandard housing and homelessness worldwide and making adequate, affordable shelter a matter of conscience and action. To date, Habitat has built more than 70,000 homes around the world, providing 300,000 people with safe, decent, affordable shelter. Since one aspect of being a Golden Key member is service to our community, this was certainly one of the most contributive activities the Rice Chapter has done.
On October 24, some 10-15 Rice members and Southwest Regional Director Tracy Young took time out of their busy schedules to do some volunteer work with the HFH's Houston branch. The group met bright and early in the morning and drove to the construction site on the north side of downtown Houston.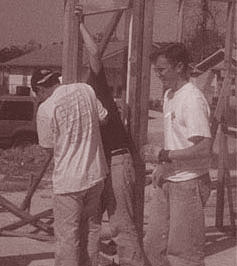 There, they were greeted with welcome smiles from Habitat workers along with their full compliment of nails, aprons, gloves, hammers, and various other tools. After a few words about safety and precautions, it was time to get down to nitty-gritty. The group was divided into smaller teams and each assigned to a task on a house that was already starting to take shape. Some groups built door and window frames while others were busy nailing in foundations. And there was even a group in charge of sawing the wood boards that other groups needed. With the help and encouragement of the Habitat workers, the students sharpened their hammering and measuring skills and quickly became old-pros. When asked about the work, On-campus VP Meena Murti said, "It's not bad, especially with everybody contributing. I'm actually glad I'm learning about all that it takes to put a house together while contributing to a worthwhile cause." President Elizabeth Parsons added, "This was a great setting to meet and get to know some of the fellow members."
It was close to one o'clock when the group stopped, and in the end, the Rice Chapter could honestly say that it contributed positively to the progress of the house. After over four hours of work, the entire underlying framework for the house was completed, and the house was ready for a roof.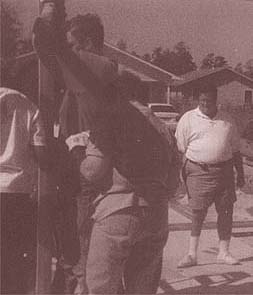 A little dirtied but satisfied with all they had accomplished, the group decided it was time to go get lunch where they could discuss with Mrs. Young further Golden Key activities as well as ways to increase awareness of GKNHS in the student body. After an exchange of thank you's between members and Habitat workers, it was time to say goodbye, but not before taking a few pictures with the other workers and of course, the house. "I want to come back in a few months and see this house when it's completed. Then I can say, 'I helped build that house!'" said Off-campus VP Brooke Robertson. Everyone agreed.
Henry Chen, Historian '98-'99
assman@rice.edu




GKNHS@rice.edu
Site design by Dave Sha; maintenance by Elizabeth Bartmess.
Last Updated: September 12, 2000