For driving directions to Rice University and a neighborbood map, please go to http://www.rice.edu/maps/visitors.html. Instead of following the parking instructions on that link, which are not for Rice vacation periods and are outdated anyway, here are some special parking instructions for CSDL, which takes place over Rice's Fall Break:
SPECIAL PARKING INSTRUCTIONS FOR CSDL
The Visitors' Map below, which has an enlargement link at the bottom of this page, shows two areas of free visitors' parking: the orange car icons in the football stadium lots. Unfortunately because of Fall Break the campus shuttles will not be operating. It is a 10-15 minute walk to the conference site from the stadium Visitors' Parking lots.
In addition to these free lots, CSDL participants can park free in Lot L in Founders' Court, which is an area much closer to the conference venue. Lot L is under the blue parking icon just to the right of the boxed central area on the map. Use Entrance 2 by Lovett Hall, and at the end of the road Visitors' Parking Lot L will be on your left. This free parking holds for Fall Break, Saturday, Sunday, and Monday, when the barriers should be lifted. If you arrive on Friday, please use the free stadium parking in the designated Visitors' lots on that day.
FROM THE HOTELS
The Crowne Plaza, Holiday Inn, and Best Western are located on the stretch of Main St. between the University Blvd. border of campus, and Holcombe Blvd. to the southwest. (See the neighborhood map in the middle of the page on the link Visitors.) Just take Main St. northeast, straight to Entrance 2 and turn left. Park in Visitors' Lot L, the first lot on the left as you drive toward the quad.
There is a free conference shuttle that picks up CSDL participants from the Crowne and Holiday Inn between 8 and 9 a.m. and from the conference site after the talks are over. Best Western guests from our conference can go to the Holiday Inn, across the parking lot, to take the shuttle.
Walking down Main St. is also possible. It takes about 15-20 minutes walking northeast on Main St. to the campus edge at University, and additional time to walk through the campus (perhaps 5-7 minutes to Humanities, a few minutes more to Farnsworth). Please take care if you have to cross Main St. Drivers are typically oblivious of pedestrians in this car-oriented city, even at crosswalks, and the Medical Center crosswalks have been the site of injuries, particularly the one nearest the Crowne Plaza which inexplicably has no traffic light.
MAPS OF RICE UNIVERSITY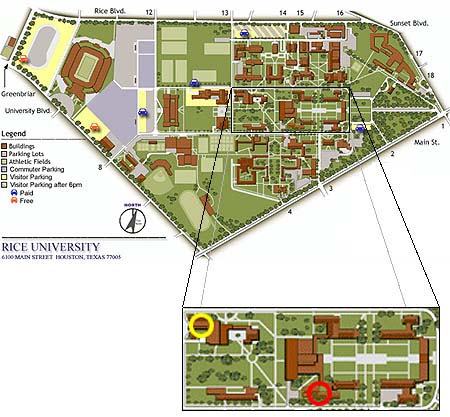 [yellow] Farnsworth Pavilion, Ley Student Center.
[red] Humanities Building
The opening and all keynote lectures will be held in Farnsworth Pavilion, Ley Student Center.
All general session lectures and the book exhibit will be held in the Humanities Building. Rooms are indicated on the conference schedule.